Last week I had the privilege to post an article written by my wife, Bonnie. As she mentioned in that post, we have both worked from home for more than four years. We know that with the current global pandemic, many people are adjusting to working from home for the first time. The previous post was all about working with a partner from home, but we also wanted to provide some general work from home tips for you all! So we both worked on the words below. (And if you're looking for RPG content, have no fear! This blog will be back next week with a My Dad's Monster Manual preview.)
So you work at home now. It wasn't your decision, and you're not set up for this at all. Let us give you some tips on how to balance work and life.
A lot of people want advice for work-life balance while working from home when we put out a call on Twitter for topics. Before we get into this, we want to tell you that it is 100% ok if you are having trouble focusing on work. Not only is working from home an adjustment, this once-a-century pandemic has many people understandably worried and panicked for themselves and their loved ones. It is really, really, really normal to have a hard time. Being socially distant does not mean you are alone. You are not. Reach out to people. They likely need connection and a chance to talk as much as you do.
List Priorities
Both of us typically start our days by making a list of the things we need to get done that day. Writing it down helps you visualize your day. If you get distracted by your dog, a package delivery, or any number of events that can happen, you can refer to your list to get back on track. Bonnie uses a whiteboard hanging above her desk to make her list. Just a glance up at those tasks can help to regain her focus from her distractions. James uses a Google document. In both cases we use a list that can easily be rearranged and added to throughout the day. It's also great because we can use the previous day's list to build the next one.
We try to build our lists so we have "end-of-day" goals. What do we need to accomplish before we break for the day, and what would we like to get done in addition to those tasks? You can break this down as granular as you like. Maybe you just write, "Draft three My Dad's Monster Manual creatures," or you could write, "Rough draft cryon, rough draft chicktee, rough draft gordon." Whatever helps you is best. James likes to break down tasks into subtasks on the list because it helps him plan his day and because crossing or deleting items from a list gives him a sense of accomplishment!
Plan Your Day
Here in our household, we try to adhere to regular 9AM to 6PM work hours with a lunch break. That means getting up in time to do your morning routine and be sitting down at your computer by 9am. You don't have a commute, so that should help you budget some time before and after work to do the other things you need and want to do with your life (even if that thing is sleeping in). If you can start your work day at a time most other people are working, it will help you stay focused and on task.
Breaks Are Good
While being focused is important, you should remember to take breaks! Your day can be much more flexible than it can at the office: you can do laundry during the day, or do some prep for dinner, but it's important to think of those things as convenient breaks, the same as if you'd go on an errand during a workday at the office. Try not to engage in household chores that would take a longer time than you'd take a break normally. James often wants to check Twitter, watch a funny video a friend sent, or read the latest RPG news when he also needs to write. Typically, he rewards himself with a quick break when he crosses an item off his list.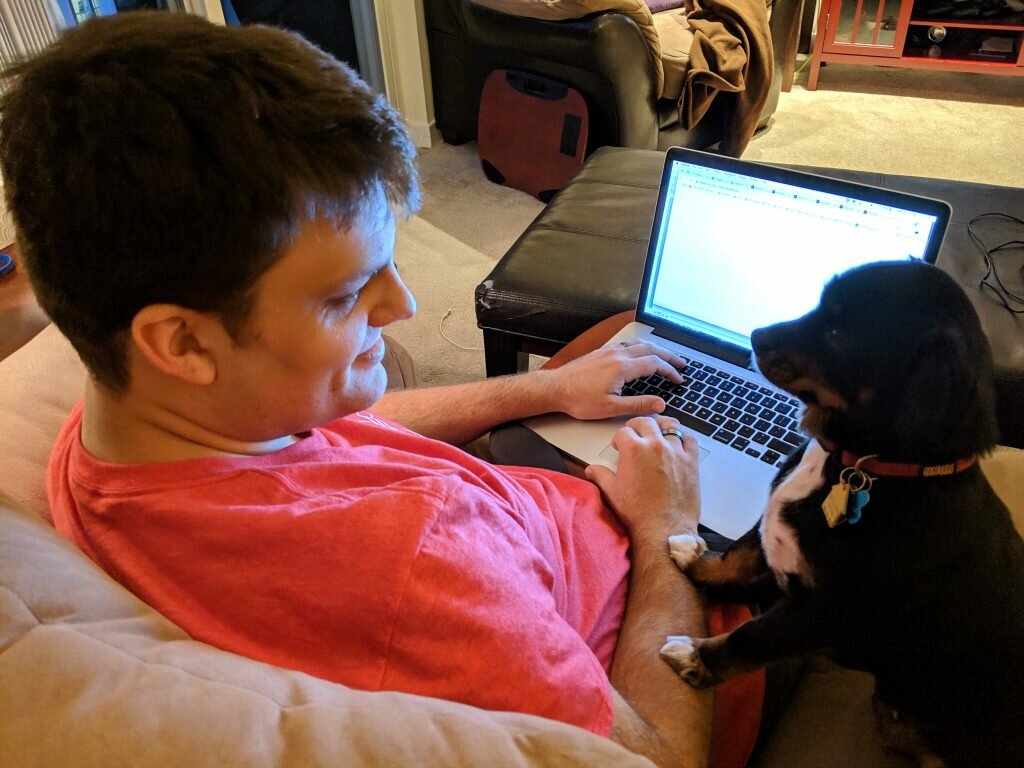 Sticking to the end time of your work day is as important as sticking to the start of it. When you work from home, you can get TOO focused. Many people can't leave the office behind, especially when the office is their living room. If you have crossed everything you NEED to do for the day off your list, and it's quitting time, go ahead and break for the day. Especially in these times, it is important to have some stress relief. Watch TV, hang out with your partner, play some games, hop on a video call with friends, or dance! Do whatever you need to do to clear your head. If you need to work late, remember to take a break, eat a meal, and, if you have a partner, share some time with them before diving back into work.
Keeping to the end of your day also helps you stay focused because you know you have a limited time to work. That means the quality of your work in those hours improves, and you're not wandering to social media, cat videos, etc. If your work time is "sort of all the time" you are more likely to get distracted and lose focus because you never give yourself a regular break.
Bonnie is going to jump on her soapbox for this all-the-time tip: TURN OFF YOUR WORK NOTIFICATIONS WHEN WORK IS DONE. All of them! Slack and email and whatever other apps you use at work give you the option to limit when they're activated. Take advantage of these features. If you receive text messages from coworkers, don't answer them after hours. If it gets overwhelming, ask your coworkers to email you or slack you after hours so that you can get to it in the morning. Rest and a mental break actually makes you more productive when you're at work, so don't let it creep into your free time just because you're sitting in the same place where you were working earlier.
Avoid Internet Temptation
Avoiding internet temptation is difficult. James checked Twitter three times while writing this article! No one is perfect, so forgive yourself if social media or something else distracts you from your work. That's number one! Be kind to you.
If you can, make internet rewards part of your daily breaks. If social media is important for your job (like James promoting his podcasts, this blog, and other work), schedule time in your day to promote stuff. You'll notice James is an active Twitter user between the hours of 9AM and 11AM Eastern, which is usually when he's checking his email and updating all his promotional stuff.
If the internet keeps distracting you and you have a job that doesn't require the internet at all times (such as copywriting, audio editing, graphic design, etc.) you can turn off the wifi on your computer and turn your phone to silent (like actual silence, not vibrate). This will help you stay in the zone. Sometimes when you need a moment to think you'll find a new tab is open on your computer and Facebook or your favorite hobby site is there without thinking. It's automatic. If the internet is off, that site can't appear.
Of course, many people need the internet all day for their jobs, so if you're getting distracted by the constant news, desperately seeking answers so you feel like you have some control in this overwhelming hellscape (… just us?), might we suggest exploring apps that limit your time on certain sites. Bonnie uses StayFocusd, which is a Chrome extension that times how long you spend on certain websites and then cuts you off with a shaming message "SHOULDN'T YOU BE WORKING?!" It is extremely diligent, so you don't have to be. You can set up your schedule and which sites are distracting you (heck, these days, maybe it's CDC.gov) and allows you to decide how much time you spend on them. I gave myself 10 minutes daily on both Facebook and Twitter between the hours of 9AM and 6PM. The timer counts down and when you're done, you cannot get into that site again nor can you change the settings you made. It is a really helpful reminder that "Past Bonnie" made this decision for me and maybe "Present Bonnie" should listen to her. There are also built-in settings on Android and Apple phones that do this for you.
We're All In This Together
We are all in this thing together. If you're home alone, don't hesitate to reach out to someone in a similar situation and ask them to be your work buddy. Your work buddy (or buddies) and you should check in on each other everyday at the start of the day. Ask, "What are you working on today?" and "What did you do yesterday?" These should be people who's work you are genuinely interested in. Think of these people as your virtual officemates. By talking about work and holding each other accountable, we're more likely to get stuff done. James doesn't want to tell Bonnie all he did at the end of the day was write a great Tweet about Lilo, and that helps keep him motivated to write cool stuff. Having a work buddy will also help you feel less isolated in these scary times!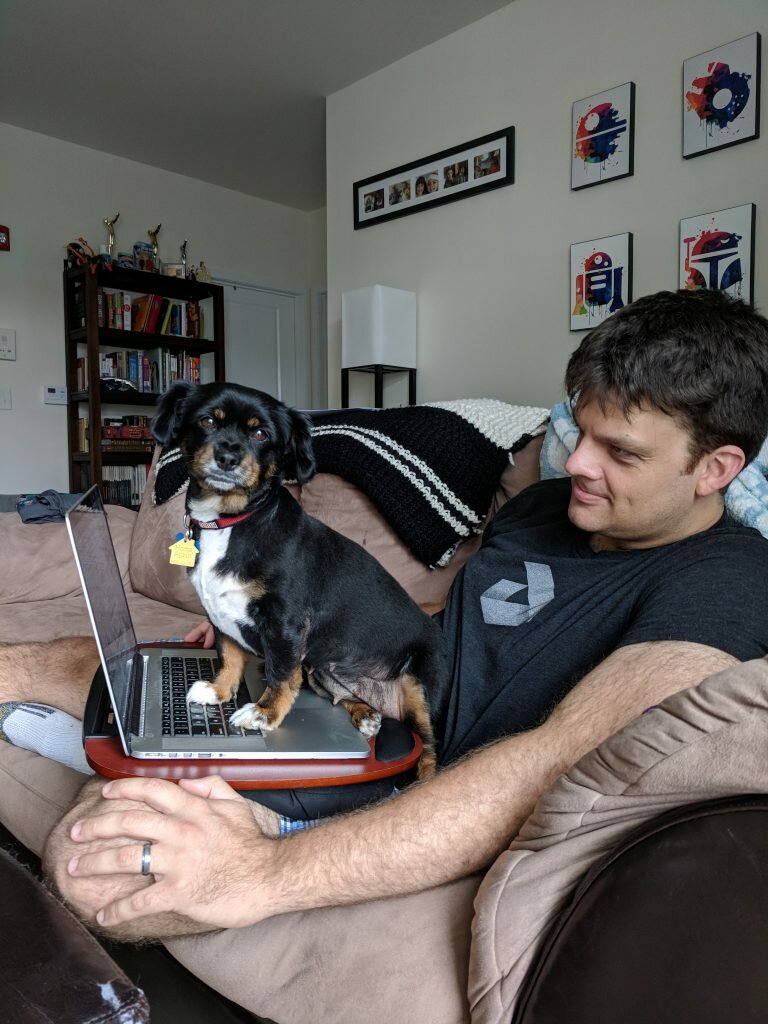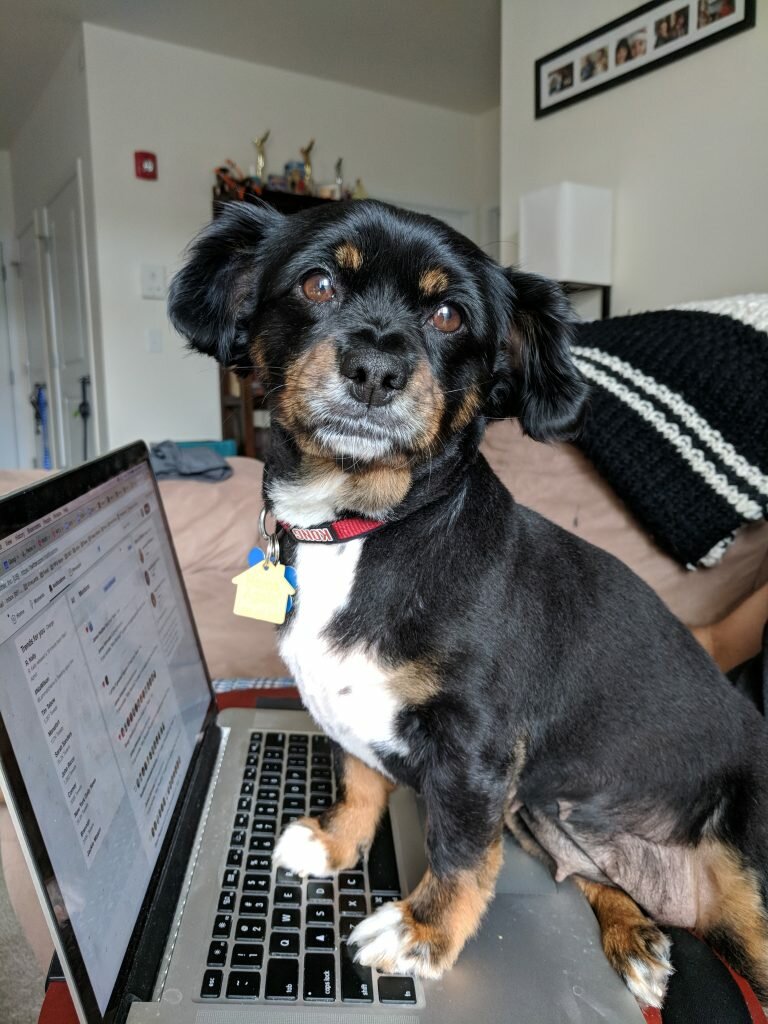 If you like what you're reading please consider supporting me on Patreon, supporting me on Ko-fi, follow me on Twitter, like World Builder Blog on Facebook, check out my podcasts, find my products on the DMs Guild, tell your friends about the blog, and/or leave me a comment and let me know you think. Thanks!
Check out my latest DMs Guild product, Oracle of War: Salvage Bases and Missions.
Hey everyone! I know this blog is usually about TTRPGs, but this week my wife, Bonnie MacDonald, had an awesome idea. We've been coworking together for more than four years. With the coronavirus outbreak keeping many people working from home for the good of humanity, Bonnie thought we could share some tips about coworking with your romantic partner. So without further ado, here's Bonnie!
James and I have both been working at home since 2016 and until recently that shared home and office space was also a two-bedroom apartment. We decided not to set up office-space in the bedroom, leaving only the second bedroom and the living room as potential office space.
The second bedroom was a shared office space that only one person would use at a time. The living room had a small writing table and the sofa.
It wasn't ideal, and it took some time to get into the right groove with our work and with each other. We're sharing some tips that we learned from years of practice, so you can benefit right away as you are thrown into unfamiliar territory.
Boundaries
It will seem silly at first, but we immediately learned the value of a door. Just a simple, unlocked door. The door immediately gives your lizard brain the signal that "the occupant needs privacy." The door incites the question, "Do I need to request the attention of the person behind the closed door right now?" That's why offices with doors are such hot commodities in the dreaded cubicle and open-office space worlds we live in now. The door gives control over the space.
This is also why James and I would trade off the office space when we only had one door to share. That space would be awarded to the person with the most video meetings or phone calls or the person who really needed to put their head down and crank out some deliverables that day. Sometimes if we had overlapping meetings, the other person would take calls or meetings in the bedroom, so we wouldn't disturb each other.
We also know you might not have a door to share. We encourage you during this (hopefully temporary) time to try to create separate workable space with what you have. Move around some furniture to create a nook in opposite corners of the room. Maybe one person doesn't mind working in the bedroom.
Early into our coworking adventure, I crawled on the floor to tell James that his livestream with Chris Perkins had cut out so as to not be seen on camera. James assured me that no matter the importance of the meeting I NEVER needed to crawl on the floor. What a guy.
We also strongly recommend you find separate rooms of the house to work in, if possible. If you do end up creating a nook in your living room, try to position it so that your back and computer screen are facing a wall. Then if your partner walks into that shared space where your office is, you don't feel like they're invading your space or sneaking up on you. You are aware of where they are and have control over the privacy of your work.
Remember that your work is something you usually navigate independently. It's okay that you feel weird that your loved ones are suddenly RIGHT THERE. I trust James more than anyone in the world; yet, if I have a call that I'm nervous about, I'll ask him to put on headphones if there's even a remote possibility he might overhear. It's okay to want your privacy.
(If you have children, you'll have to look elsewhere for advice for that one. Maybe you do need to lock the door, as this very serious BBC reporter learned the hard way.)
Communication
Just like in the office and in all relationships, communicating is key. In an old office job my entire team shared calendars with one another, so we'd have a sense of when someone was slammed with meetings or if they were taking off work. It was common procedure to check that calendar first before going to chat with someone or, of course, scheduling a meeting.
That's just what James and I do in our two-person office space. Google Calendar makes it easy to share calendars so we can see them all in one view. Then if I want to ask James a question or take a break and just chat, I can look at his calendar. Is he in a meeting? Is he about to be in a meeting? Then I'd find another way to take a break. James does the same for me!
Since we would alternate use of the dedicated office space, we also checked in with each other in the morning. What do you have going on today? Who is going to use the space? Do we need to switch off at a certain point?
Make sure you talk to each other about how you like to work. I get very fidgety and even a little depressed when I'm at the computer all day. James would live in his dragon-filled world with the curtains drawn and no human interaction for days. Just because we have different styles, doesn't mean we can't accommodate each other. We have regular lunch dates so we can chat during the day. Before we dive into a conversation, we ask the other person if they have a moment to chat and expect an honest answer. Keep that answer polite and snark-free.
Be open about your working style, especially when you're finding it changing. Often, I work in my office in the morning and by the afternoon I like to sit in the dining room for a change of scenery. James is pretty much at his desk all the time. Be open about how you find yourself changing even just day-to-day in this new environment. Change is good! Be kind to yourselves and to each other. It takes some getting used to.
It may seem absurd since we're in the same building, sometimes just a wall between us, but we also talk through Google Hangouts, which is an unobtrusive way to have more casual banter and send each other funny animal videos. If you keep thinking of things you want to talk to your spouse about, try keeping a list for later or emailing them, so they won't get an immediate notification and can look at it on their schedule.
Enjoy
We've heard from lots of people that they could never work at home with their partner, but now many of us should do so for the good of humanity. Here's the thing: working together at home can be really wonderful. We love it! I encourage you to try and enjoy these things:
If I'm having a bad day or a frustrating few hours, I go and ask James for a hug. It is the best remedy to know that he is there and he supports me when I am feeling frustrated or the imposter syndrome is creeping in. (James note: Bonnie does the same for me. She is the best. Boundaries and communication are important, but remember to throw that stuff out the window when your partner really needs you. No work I do is more important than Bonnie.)
Schedule time to chat with each other and be with the person you love most in the world. A dog-walk date, coffee break, a lunch, or even knocking off early to enjoy some time outside before dinner. You work from home now. These are the freedoms you can enjoy together!
They say that petting a dog can relieve stress and James and I have set up space for our beloved Lilo to be at our side at all times. Giving her some scritches or taking fifteen minutes to play can be a necessary break for your brain. Sometimes we both take a break to play with the puppo.
Patience
Remember these are new circumstances. It took a year for James and I to understand our rhythm, and sometimes we still fall out of it. Have patience for each other and remember that not only is working from home new, but all the constant news about the virus and the economy is really, really stressful. Some tips for success:
DON'T send your spouse every crazy news alert you see. We all need to stay informed but also find time to focus and perhaps your partner just got in the zone. Make rules about when you are sharing this info and stick to them.
DO send adorable videos of penguins touring the empty aquarium. These are always welcome endorphin rushes. But maybe email it, or save it until you can ooh and aww together cuddled on the couch.
Take care of yourself, try to limit your scary news intake, and deep breaths do work. If you've got more questions, tweet at us @BonnieMacPlans and @JamesIntrocaso.
Stay safe, friends!
Next week: tips for all people working from home about how to stay focused and get into a good routine.
If you like what you're reading please consider supporting me on Patreon, supporting me on Ko-fi, follow me on Twitter, like World Builder Blog on Facebook, check out my podcasts, find my products on the DMs Guild, tell your friends about the blog, and/or leave me a comment and let me know you think. Thanks!
+ More Blog Posts +
I'm SUPER excited to announce that I am the lead designer of a really cool product that's now available on the Dungeon Masters Guild.
In 2019 Will Doyle and Shawn Merwin of the Adventurers League approached the Guid Adepts about making an awesome D&D product. They wanted a product that accomplished the following objectives:
The product would provide mechanics for collecting a resource called salvage found in the Mournland in Eberron.
The product would provide mechanics for using the salvage to build a cool home base for player characters in Eberron.
The product would provide rules and guidelines for creating your own Adventurers League legal adventures in Eberron. These adventures allow the player characters to earn salvage instead of the usual gold or magic item.
The product would provide four ready-to-play sample adventures (one per tier).
I was the lead designer on a team that included M.T. Black, Rich Lescouflair, and Ginny Loveday as well as Will and Shawn. Together we created Oracle of War: Salvage Bases and Missions.
While this is an Adventurers League product, the adventurers and the salvage and base building rules can be used outside of AL play. Who doesn't want to build a base inside an ancient ruin, old tavern, or derelict warforged colossus?
Here's the description in from the DMs Guild product page:
Create Your Own Home in the Mournland!

Oracle of War: Salvage Bases and Missions contains new Dungeons & Dragons rules you can use to build a base in the Mournland, a terrifying, magically warped landscape in the Eberron campaign setting. Your base originates near Salvation, a frontier town on the border of the Mournland's mists. If you upgrade your base to its fullest potential, your home base can travel the world of Eberron with you.

In addition to the rules for building a base, this supplement contains ready-to-play adventures Dungeon Masters can run, allowing characters to earn a new resource called salvage. Salvage is an abstract currency used to purchase upgrades for your base. The supplement also includes rules, guidelines, and random tables to help DMs design their own Mournland adventures called salvage missions.

This supplement, created by the Guild Adepts, is legal for D&D Adventurers League play when used as part of the Oracle of War campaign. Your group can use the Oracle of War: Salvage Bases and Missions as written to create and upgrade a base. The adventures provided here can be integrated into the Oracle of War campaign, as can any base created by the characters. Adventures you create using the rules in this supplement are also legal for Adventurers League play as part of the Oracle of War campaign.

You can find out more about the official D&D play programs at dndadventurersleague.org. If you are not planning on using this product for Adventurers League play, you can use it as you see fit to enhance any D&D game.
Share and Review
Do you like Oracle of War: Salvage Bases and Missions? Please consider leaving a review on the product page and spreading the word about it social media!
If you like what you're reading please consider supporting me on Patreon, supporting me on Ko-fi, follow me on Twitter, like World Builder Blog on Facebook, check out my podcasts, find my products on the DMs Guild, tell your friends about the blog, and/or leave me a comment and let me know you think. Thanks!
Publisher's Choice Quality Stock Art © Rich Hershey / Fat Goblin Games
Check out my latest DMs Guild release: HAGMALGAMS
I've gotten a lot of questions lately about the best way to become part of the RPG community and make connections with the people and companies that hire game designers. Here are my top tips for making a splash in the industry.
Put Your Stuff Out There
If you're a creator, one of the best ways to network with others is to share your work. Get on social media, forums, Reddit, Discord, etc. and shout about your creations. Ask other people for feedback (and accept that feedback with grace when it is given constructively). The internet loves giving opinions! This is a great way for people to get to know you and your work. Don't forget to return the favor to other creators you love and comment on and share their stuff as well!
Protip: Before you post, make sure you're in a healthy state of mind so you can handle the criticism (and sometimes unnecessary malice) that comes with sharing your stuff on the internet.
Apply for Jobs
Applying for gigs is a great way to get your name in front of others. I have had many submissions and applications rejected in this industry, but just sharing my experience and willingness to work with a company or person has led to other opportunities even though I was rejected for the initial job. Rejection does not typically leave you any worse than before you applied for a job and can give you another connection you did not have previously. If you think you're right for a gig, throw your name into the ring. You never know what will come of it.
Protip: Pay attention to a job listing and make sure you're right for a gig before you apply. Applying for every job just to make connections is not a great idea because you might be wasting someone's time, which people will not appreciate.
Hire Other People Yourself
If you want to work with someone on a project, reach out to them. Find out what their rates are and if you can afford that person, pitch THEM a project. I collaborated with many of my favorite artists, designers, editors, and more because I reached out to them first. They reach out to me later on with a project of their own and recommend me to others, because I compensate them fairly and am a great coworker.
Protip: Even if you don't have a ton of cash to hire someone, ask your preferred partners if they're interested in splitting royalties or keeping the rights to the work they do. There are lots of ways to work together so everyone wins.
Social Media
Social media is the place to make connections in almost all industries these days. It can be overwhelming, but having a presence in a few places can really help you make connections. Many of the jobs I've gotten have come from Twitter. Facebook, Reddit, Discord, Instagram, and more all have very active RPG spaces.
Protip: Review the rules of the space where you communicate before you start or join a conversation. Stay respectful of the members of the community and follow the established rules and codes of conduct.
Starting Conversations
When you start a conversation on social media, use language as precise as possible. Be mindful of what you post and ask of others. Are you starting a conversation for fun? Convey that with your tone. Make sure the topic you picked isn't actually harmful or serious to others. Starting a more serious conversation? Make sure you apply any appropriate content warnings and give some guardrails for your discussion like, "I want to focus the conversation on X," or, "You may think I mean Y, but I'm really trying to drill down on Z." If you tag someone in your initial post on Twitter or Facebook, they'll be notified of all the replies. Unless that person wants that, be kind and put their name in a comment or later post.
Once a conversation starts, keep in mind that it's up to you to monitor and moderate it. Keep the conversation focused and on tone. When someone says something awesome or appropriately funny, let them know you appreciate it. If someone strays, let them know. If someone is a jerk, block them. It protects you and your followers.
Protip: If it turns out you goofed and harmed someone with your words online when you did not mean to do so, apologize and take steps to correct your mistake and make sure it doesn't happen in the future.
Follow Friday (#FF) Tip: If you're doing Follow Friday, pick ONE person and tell everyone WHY they should follow them instead of tagging a giant block of creators. The former is meaningful and makes the person take notice. The latter typically gets the people no new followers and a bunch of notifications about Sponge Bob GIFs.
Joining Conversations
Joining a conversation someone else started online can be a super fun way to make connections. Social media is a public space that often invites fun brainstorming, sharing stories or ideas, constructive criticism, and debate. Before you join a conversation, make sure you read the main post (and any linked articles… not just their click-baity titles), and give a response that actually applies to the situation. If you're getting ready to post advice, a long tangent, or an argument, make sure that is something the person who posted is actually looking for. It's not fun to get any of these things unsolicited. Sometimes sharing a post and showing support is more important than actually jumping in with your own thoughts. This is especially true in situations that you cannot personally relate to.
When you do respond, keep it fun and respectful. Sarcasm is not a font, so it rarely comes across. Remember that while you may feel like you know some people well enough to make jokes based on their social media presence, they may not know you that well. Respect and kindness go a long way in life, especially online.
Protip: Side conversations, tangents, and debates can happen between two or more people that often have nothing to with the initial post or poster. Be sure to untag or take the conversation elsewhere when this happens as a courtesy to the person who helped spark the conversation.
Conventions
Conventions are all about hanging out with other people! Go to hang outs, meet people at their booths, set up coffee or lunch dates beforehand, and play some games. Let creators know you enjoy their work and be comfortable talking about what you do and your own goals. Ask your friends in the industry before a convention if they can help you set up meetings with people they know. I love meeting friends of friends because they typically are great people (who become my own pals in short time).
It's always good to try to meet someone at a scheduled time or at parties, meet-and-greets, or other appointed meeting places. But if you see someone you know of or want to work with randomly at a convention, don't be afraid to introduce yourself with a quick hi, unless they seem super busy. You can always catch them another time. The RPG industry is small enough that you likely will run into that person again soon.
Protip: If you design games, guess what? It's ok to introduce yourself as a game designer. Same goes for artists, editors, and anyone else out there, even if you've never made money at it.
Create Your Own Spaces – Make them Safe
Online and in person, creating your own spaces is a great way to make connections. It might be a Discord for a podcast you produce, Facebook group for awesome RPG artists, a weekly game night at a local store or library, or a meetup for creators at a bar during a convention. When you connect other people, you are also connecting yourself to them. Plus it lets you talk about RPGs a lot more, which is what it's all about!
When you create a space, make it inviting and safe for others. A clear code of conduct that calls out bigotry of all stripes and a plan of action for addressing harassment is a great start. If your space becomes too big for you to manage on your own, ask trusted members of your community to be moderators.
Protip: Listen to your space's community. Communities and their needs change as they grow. The best way to keep up with that evolution is to keep an open ear and mind.
Clear Communication on the Job
When you're working with other creators, communication is key in helping maintain and make new connections. Be upfront about your needs as a creator before the project starts so there is no question about payment, rights, etc. after you've already done work. When you don't understand something, ask instead of assuming. Keep your communication on the job clear and concise and collaborate with others, and your name will be connected with other people.
Protip: Send thank you messages after a job is complete. It lets people know you enjoyed working with them and cannot wait to do so again.
Above All Be Genuine and Be Kind
When you're connecting with other people, be yourself. Kindness and respect are important, as they are in everyday life, but you must also be kind to yourself. Remember to be true to who you are. There is no one else on earth who is you. No one can be you. You cannot be someone else. Embrace that. Let people know what you love about RPGs, what you want to change about the industry, and why you do what you do.
Remember that respect begets respect. Treating others with kindness will lead them to do the same. If they don't treat you with respect, then you do not want a connection with that person anyway, because YOU are awesome.
If you like what you're reading please consider supporting me on Patreon, supporting me on Ko-fi, follow me on Twitter, like World Builder Blog on Facebook, check out my podcasts, find my products on the DMs Guild, tell your friends about the blog, and/or leave me a comment and let me know you think. Thanks!
+ More Blog Posts +
Check out my latest DMs Guild release: HAGMALGAMS
Based on the numbers, it seems like people are really liking the previews of My Dad's Monster Manual. Got questions about the concept? Check out my first post on the subject.
The playtest for this book has begun, but today I wanted to show off a unique monster my dad came up with. By unique, I mean there is only one of these creatures. My father created an archdevil named Donafur. I wanted to share him with you all because his beefy challenge rating of 26 means not many groups are actually going to get to playtest this bad boy. I've found higher level creatures need a lot of care, so I figured I would share this critter with the internet because the internet is always willing to give an opinion (for which I am always grateful, save for those criticisms that mean-spirited).
Anyway, without further ado, I give you my dad's take on the shadow demon: an archdevil named Donafur.
Donafur (Shadow Demon)
This is Donafur. He wants to build his own separate Hell.

Lucian J. Introcaso
Donafur is an archdevil exiled from the Nine Hells. The fiend's skin is so dark it absorbs light and his long arms end in wicked claws. Normally Donafur appears to be about seven feet tall, but he can grow nearly fifty feet.
A Hell of His Own. Donafur fled the Nine Hells after a failed attempt to depose Asmodeus. He dare not return to his home plane for fear of what punishment awaits him. The ambitious Donafur cannot leave his dreams of ruling the Nine Hells behind, so he plots to create his own infernal realm by conquering another plane and reshaping it.
Soul Trader. To take over a plane Donafur requires an army. In true devil fashion Donafur and his agents make deals with mortals to acquire their souls. Donafur offers love, treasure, power, and anything else he can to seal the deal. In life these mortals bound to Donafur create cults to encourage others to pledge their loyalties to the devil. When the mortals die, Donafur turns their souls into nettlehams, a kind of devil loyal only to him.
Unlike Asmodeus, deals are the only way Donafur can amass an army. This fact makes Donafur willing to offer more than other devils. If he gets wind of a mortal about to make a deal with another devil, his agents might swoop in last minute with a better offer.
Donafur believes all mortals can be tempted into selling their souls. It's just a matter of finding the right offer. If he's wrong, his hubris may be his undoing. If he's right, a second Hell is just around the corner.
Donafur
Medium fiend (devil), lawful evil
---
Armor Class 21 (natural armor)
Hit Points 517 (45d8 + 315)
Speed 50 ft., fly 150 ft.
---
| | | | | | |
| --- | --- | --- | --- | --- | --- |
| STR | DEX | CON | INT | WIS | CHA |
| 24 (+7) | 27 (+8) | 25 (+7) | 28 (+9) | 27 (+8) | 30 (+10) |
---
Saving Throws Int +17, Wis +16, Cha +18
Skills Arcana +17, Deception +18, Perception +16
Damage Resistances cold; bludgeoning, piercing, and slashing damage from nonmagical attacks that aren't silvered
Damage Immunities fire, poison
Condition Immunities charmed, exhaustion, frightened, poisoned
Senses truesight 120 ft., passive Perception 26
Languages all, telepathy 120 ft.
Challenge 26 (90,000 XP)
---
Innate Spellcasting. Donafur's innate spellcasting ability is Charisma (spell save DC 26; +18 to hit with spell attacks). He can innately cast the following spells, requiring no material components:
At will: charm person, chill touch (as 17th-level caster), detect thoughts, fireball, invisibility (self only), zone of truth
3/day each: antipathy/sympathy, dominate monster, mass suggestion, wall of ice
Legendary Resistance (3/Day). If Donafur fails a saving throw, he can choose to succeed instead.
Light Absorption. If Donafur chooses, he absorbs all light within 60 feet of him, making this area completely dark.
Magic Weapons. Donafur's weapon attacks are magical.
Magic Resistance. Donafur has advantage on saving throws against spells and other magical effects.
Actions
---
Multiattack. Donafur uses Change Size then makes two attacks.
Change Size. Donafur can grow from a Medium size creature to a Gargantuan one or shrink from Gargantuan to Medium size. While Gargantuan, he deals an extra d12 slashing damage with claw attacks and his reach for the claw attacks increase 10 feet (included in the attacks).
Claw. Melee Weapon Attack: +16 to hit, reach 10 ft. (Medium) or 20 ft. (Gargantuan), one target. Hit: 27 (3d12 + 8) slashing damage, or 34 (4d12 + 8) slashing damage if Donafur is Gargantuan, plus 16 (3d10) psychic damage. If the target is a creature, it also makes saving throws against enchantment spells cast by Donafur with disadvantage until the end of Donafur's next turn.
Psychic Bolt. Ranged Spell Attack: +18 to hit, range 120 ft., one target. Hit: 44 (8d10) psychic damage, and the target is charmed by Donafur.
Legendary Actions
Donafur can take 3 legendary actions, choosing from the options below. Only one legendary action option can be used at a time and only at the end of another creature's turn. Donafur regains spent legendary actions at the start of its turn.
Chill Touch. Donafur casts chill touch.
Incorporeal Movement. Donafur moves his speed without provoking opportunity attacks. He can move through other creatures and objects as if they were difficult terrain. Donafur takes 5 (1d10) force damage if he ends this movement inside an object. If he is still inside an object at the end of his turn, he takes the damage again.
Save Servant (Costs 3 Actions). Donafur touches the remains of a nettleham that has died within the last minute. The nettleham returns to life with half its hit points restored.
What Do You Think?
So how did Pop do? Let me know in the comments below. Maybe I should show off the nettleham next?
If you like what you're reading please consider supporting me on Patreon, supporting me on Ko-fi, follow me on Twitter, like World Builder Blog on Facebook, check out my podcasts, find my products on the DMs Guild, tell your friends about the blog, and/or leave me a comment and let me know you think. Thanks!