Publisher's Choice Quality Stock Art © Rich Hershey / Fat Goblin Games
You can order The Demonplague, my level 1 – 20 fifth edition adventure, right now!
Variant rules for Dungeons & Dragons! You love 'em. I love 'em. Let's talk about two I am thinking of implementing at my table.
Flanking Variant
The Dungeon Master's Guide already has optional rules for flanking in chapter 8. This version of flanking is very powerful in play and sometimes results in a bunch of miniatures doing a line dance as they all line up to battle each other. If characters can use flanking to gain advantage on every attack, it negates some of their other class features that allow them to gain advantage. Why use your bonus action to use Insightful Fighting as a inquisitive rogue (or take the Help action as anyone) when flanking can get there as part of your move action?
In third and fourth edition, flanking gave a numerical bonus to attack rolls. This made it typically less powerful than the power curve of fifth edition's advantage mechanic and useful to use with other class features, since it often stacked with other bonuses, but it was also part of the never-ending bonus problem that slowed the game way down. Fifth edition improved combat speed and simplicity with advantage and disadvantage taking the place of most circumstantial bonuses and penalties from older editions.
Also, the flanking variant as written in the Dungeon Master's Guide is hard to parse without a grid.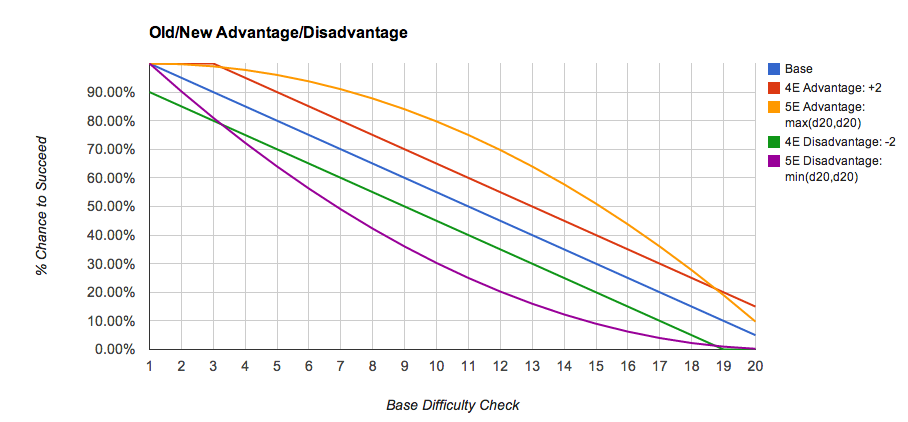 I want to use flanking in my games because it gives adds a fun layer of tactical teamwork for my players. While I often have combat on a grid, I don't always, so I would like flanking to work with theater of the mind encounters. Also, I don't want flanking to become the main game during combat because it is so powerful. With that in mind, here's my variant rule for flanking.
When two allied creatures are within 5 feet of an enemy creature and one of the allied creatures makes a melee attack against that enemy, the other allied creature can use its reaction to grant advantage on the attack roll (before the roll is made).
This limits the amount of advantage being thrown around since a creature must use its reaction to grant it and because the advantage applies only to the one attack roll and not to all the attacks a creature makes against the target that turn. It adds a good gambling element. (Will you use your reaction to help your friend or save it for something else like a possible opportunity attack or casting counterspell?) The fact that there are no flanking positions in the rule also helps mitigate the line dance effect and makes the rule easier to use for theater of the mind combats.
Best of all this adds a neat roleplaying element to combat for those who prefer it. Players can describe their characters distracting enemies with feints, growls, wet-willies, and more as they use their reactions to help their friends (which is less likely to happen when flanking grants a static bonus).
What do you think? Sound off in the comments below!
Inspiration Variant
I really like the concept of inspiration in D&D, but I in practice many groups forget to use it. In theory it should work best when people use it all the time to gain the benefit as written.
If you have inspiration, you can expend it when you make an attack roll, saving throw, or ability check. Spending your inspiration gives you advantage on that roll.
However, many people use inspiration to reroll a failed attack, check, or save. With a reroll you only use inspiration when you fail. When it grants advantage, you use it before the roll and might be more likely to use it since you spend it before you know the result of a failure, but in order for this idea to take hold, you have to get it frequently, which is the other problem the inspiration. DMs often forget to give inspiration, so when they do have it, players either forget to use it (because it isn't being mentioned often) or hoard it because it is rare, which creates a cycle of no one using inspiration. (Also inspiration and the bard class feature Bardic Inspiration have similar names and are slightly, but different, mechanics, which often confuses even veteran players when a bard is in the party, but that can't be solved without renaming one of the mechanics, which would further confuse things at this point.)
Chapter 8 of the Dungeon Master's Guide has great advice and variants for inspiration and even touches on the one I am about to suggest. Like most inspiration rules the one I am proposing works best if you award inspiration as some sort of token the players can see and hand back to you when they spend it (e.g. poker chips, twenty-sided dice of a specific color, coins, stones, etc.).
Inspiration is a group resource. When a player earns inspiration as described in chapter 4 of the Player's Handbook (or using the variant rules in chapter 8 of the Dungeon Master's Guide), an inspiration point goes into an inspiration pot. (If using tokens to represent inspiration, keep this pile near the center of the table so all players take notice.) The inspiration pot can hold a maximum number of points equal to the number of player characters in the party, and cannot exceed this maximum. Any player character can expend a point of inspiration from the pot when they make an attack roll, saving throw, or ability check. Spending an inspiration point gives advantage on that roll.
Players are encouraged to ask the DM to award inspiration for another player's character's actions or roleplaying and should encourage other players to spend inspiration points on their turn.
By making inspiration a group resource (and putting a pile of tokens in front of their faces instead of awarding them individually) it increases the chance that at least one person at the table is thinking about gaining or using inspiration at any given time. The more reserved roleplayers, who maybe do not earn inspiration as often as others, can still benefit and participate in this part of the game, and those actor types who you always want to give more than a single shot of inspiration can now earn more for the group. Increasing the teamwork value of inspiration makes it more visible, more valuable, and more likely to be used at the table.
What do you think of this variant? Sound off in the comments!
#VotePipyap
By the way I am headed to #VotePipyap! If you see me there, say hi!
You can order The Demonplague, my level 1 – 20 fifth edition adventure, right now!
Just a quick update this week to let you know that my official D&D adventure, Sleeping Dragon's Wake, is now available on Roll20 an D&D Beyond. Both marketplaces have a variety of deals available!
Just what is Sleeping Dragon's Wake? It is the middle of adventure in a trilogy meant to take place after Dragon of Icespire Peak, the new adventure that comes with the D&D Essentials Kit. Shawn Merwin wrote the first adventure, Storm Lord's Wrath, and Will Doyle wrote the third, Divine Contention. We all helped contribute and develop each other's adventures too! Hannah Rose edited all the adventures, Will Doyle and Stacey Allan did the beautiful adventure location maps, Bill Benham and Chris Lindsay oversaw the story, and a whole bunch of other people came together to bring the products to life. I cannot thank the Roll20 and D&D Beyond production teams enough for turning our word documents and PSD files into an amazing product.
So what is the adventure all about. Here's a description:
Abandoned for many years, Leilon was once a fortified settlement midway along the High Road from Waterdeep to Neverwinter. Under the paid service of the Lord Protector Dagult Neverember, citizens of Neverwinter have returned, intent on reestablishing Leilon as a safe waypoint once more. Unfortunately, followers of Talos have also arrived, and they've brought the weather with them. To make matters worse, a cadre of villains devoted to both Myrkul, god of death and the Cult of the Dragon, have risen from the Mere of Dead Men to strike out as well.
My adventure takes characters from level 9 to 11, though the entire trilogy goes from 7 to 13 (and really the entire trilogy rocks)! Like the Essentials Kit, you can play through the adventures with one player and one DM using sidekick characters.
If you like what you're reading please consider supporting me on Patreon, supporting me on Ko-fi, follow me on Twitter, like World Builder Blog on Facebook, check out my podcasts, find my products on the DMs Guild, tell your friends about the blog, and/or leave me a comment and let me know you think. Thanks!
+ More Blog Posts +
Publisher's Choice Quality Stock Art © Rich Hershey / Fat Goblin Games
You can order The Demonplague, my level 1 – 20 fifth edition adventure, right now!
Much like podcasting, I get a lot of questions about how to get started blogging. I've been answering the question so often that I figured a post on the subject would be helpful.
Blogging has been super rewarding for me in more ways than one. I have gotten a lot of enjoyment out of writing these posts, it generates a little income through Patreon, it showcases my work (and helps me get writing gigs), and it gives me an excuse to write regularly, which has vastly improved my skills over the last five years. Seriously. Go back and look at some old posts. Actually don't!
Writing and maintaining a blog is a lot of work, no matter your chosen topic. Many people start then stop after a few posts because they didn't realize the work involved. Let me share my wisdom to help!
Step 1. What's Your Name and Idea?
Before you start blogging you are going to need a site to post your writing and that place needs a name. You should also know what you want to write about, be it reviews of tabletop RPGs, an original world you are creating, or the outdated use of boxed text in RPGs. It's best if your blog name at least gives people an idea of what you're writing about. (Don't call your blog The Gnoll Hole if you never plan to write about gnolls.) Come up with a few name ideas, and research each. Someone might already have a website with the name you want, so it is good to have backups to avoid brand confusion and possible legal troubles.
Step 2. Find Your Host
Where will your blog live? Many people use sites like WordPress or Blogger that are specifically made for blogging and have a lot of features and templates for your various blog needs. They're easy to use. You can often get started for free on these sites and later pay to get a custom URL and some more customizable features. I got my start with WordPress and still use many of its features (though I have since worked with Ryan Hennesy to make this custom, beautiful site).
You can also use sites like Squarespace or Wix to build more custom websites, which include blog pages. These sites often allow for more customization off-the-bat, but you'll have to pay. This can be a significant investment for something you may not be sure is for you.
Step 3. Build Your Site
Once you have your host, you have to build your site. This could be as simple as selecting a theme or color scheme, or as advanced as creating (or commissioning) an original logo and building a website from scratch. If you're just starting out blogging, I recommend going the simple route. You can always get fancy later!
Step 4. Write and Edit Several Posts
Before you officially launch your blog it's a good idea to have several blog posts ready to publish. This will put you ahead of the game and stay on schedule when you get sick or life gets too busy. I recommend having at least four blog posts ready to go before you publish your first post.
I plan posts in outline form, then write, and then read them aloud as I edit. I also run a spell check after this. Even then typos get through sometimes. Don't sweat it when they do, but go back and fix them ASAP when you (or a reader) catches them. It's not a bad idea to have a friend look at the posts before you publish to give you feedback. Be sure to bake them cookies or something!
Step 5. Attach an Image to Each Post
Social media posts have more engagement when they have an image to go with them, and your blog will look better with some pictures. You can use Creative Commons to find some awesome images (or buy stock art on sites like DriveThruRPG). Be sure to read art licenses before you post pictures and properly credit the images on your site. You'll save yourself time and grief if you do this, plus it's the right thing to do!
Step 6. Make a Schedule
Now that you have a few blog posts under your belt, you have an understanding of how long it takes you to write a post. Creating a lot of content is great, but it's more important for you to put out posts on a consistent basis that works for your schedule. Yes, a blog post every day can bring viewers to your site, but for many folks that schedule is unsustainable. Take it from me, once a week can be a struggle sometimes with work, family, travel, and friends. Some blogs post every other week or every month.
Whatever schedule you pick, make sure its right for you. My advice is start slow. You can always ramp it up later! You can also slow down if you need to, just make sure your readers know. (I did that when I went from posting twice a week to once.) Communication and consistency are key to building an audience for your blog.
Step 7. Launch and Promote
After you launch your first blog post it's time to promote. Create Twitter, Facebook, and other social media accounts and get blasting. Some subreddits allow you to post your own content, but be sure to read each forum's rules. Shout out your post on message boards, and encourage readers to spread the word. Ask people you know to share your blog.
Step 8. Stay Consistent
That first post is out! Don't get discouraged if you don't get a lot of views at first. You're building a library of content for people to come read. Yes, some posts will have big hits when they launch… eventually. But the more content you have, the more people will come to your site to read, be it a post you wrote this morning or three years ago. Stay consistent so you keep putting out content regularly and your loyal readers know when to expect an update to your site.
Staying consistent also gives you a self-imposed deadline you know you have to hit. Mine is fast-approaching, so I better get to editing and publishing this post!
If you like what you're reading please consider supporting me on Patreon, supporting me on Ko-fi, follow me on Twitter, like World Builder Blog on Facebook, check out my podcasts, find my products on the DMs Guild, tell your friends about the blog, and/or leave me a comment and let me know you think. Thanks!
You can order The Demonplague, my level 1 – 20 fifth edition adventure, right now!
Last week I wrote a blog post with the some updated mechanics of Burn Bryte, a new science fantasy RPG I created with Jim McClure, Kat Kuhl, and Darcy Ross for exclusive use on the Roll20 platform. A few months ago I wrote a post about Story Paths, the main character advancement mechanic of Burn Bryte. In this post I'll get a bit more in depth with the mechanic and show off two sample Story Paths. There are forty Story Paths include in the core rules.
Side note: If you want hear Story Paths in action, listen to Kat's Autonomic podcast. She's running a game using the same system as Burn Bryte.
What Are Story Paths?
Story Paths are arcs of narrative growth your character experiences. The paths can concern anything from romance to mastering a skill to going on the run, and when all of them are laid together, they show your narrative as a hero .
How Story Paths Work for Players
Each Story Path has five events associated with it. Each time you complete a Story Path event, your character's story advances along with their power and resources, usually by increasing the die size of a skill or gaining a new ability or argent (which is currency in Burn Bryte). Some events have more than one outcome, and each outcome has its own reward.
When you create a new character, that character is starting their first Story Path. Choose any path you like, and inform the GM of your choice.
You take Story Paths one at a time. Your current Story Path represents your character's main narrative experience at that moment in the game but not to the exclusion of other stories. For instance, just because a character is on the Battle Story Path does not mean they cannot fall in love because they aren't on the Love Story Path, just that their main focus is the fight they're caught up in.
When it's time to choose a new Story Path, think about how your new path might tie together with your previous one. For instance, a character who just completed the Rivalry Story Path may have let someone down by not defeating their rival. That character begins the Redemption Story Path after their failure. The character redeems themselves in the eyes of the person they let down then realizes their love for that person and begins the Love Story Path. It's a good idea to not plan your Story Paths out but just take what feels right for your character whenever it is time to start a new one. Unless specified otherwise in a Story Path's description, a character can take the same Story Path multiple times. Story Paths and their goals are open with possibilities, so you can experience the path in any way you want. Feel free to talk to your GM about changing goals from what is provided to better suit your story.
Sample Story Path Progression for One Character
Jim creates a kith'uk (an insectoid species in Burn Bryte) named Sylo Ranisfult. He decides the Contest Story Path is Sylo's first and informs his GM of the choice.
During the first session of play Sylo learns about a spaceship race around the Ozobny system and enters, completing the "Challenge Accepted" event, the first of the path. After completing the event, Sylo earns the event's reward. ("Increase the die size of one of your social skills by 1.") He increases the die size of his Suavity skill from d4 to d6.
During a later session of play Sylo learns of a complication with the race's rules. Only older models of spaceships called boomers are allowed to be used for the competition. Sylo finds a mechanic with a boomer who agrees to let the kith'uk borrow the spaceship in exchange for transporting the glean's friend from the Ghost Belt to the Heartworlds. When Sylo brings the mechanic's friend safely to the Heartworlds, the kith'uk completes the "Curveball" event and earns its reward. ("Increase the die size of one of your Mental skills by 1.") Sylo's Computers skill increases from d6 to d8.
Sylo spends downtime during the next session learning to operate the boomer. After Jim describes how Sylo practices with the ship, the GM deems the "Train" event is complete, and the kith'uk earns its reward. ("Increase the die size of any one of your skills that is related to the contest.") The kith'uk plans to use Athletics to pilot the ship during the race and increases the skill's die size from d8 to d10.
When the race finally happens, Sylo fails several skill rolls and comes in second place to an ulran (a species of crystalline humanoids) named Sevbok Syonakonoysin, completing the "Compete" event. Sylo earns the reward for losing the race, the Determined to Win special ability.
After the loss Sylo goes about repairing his reputation by publicly claiming Sevbok cheated and demanding a rematch. These actions complete the "My Reputation" event, and Sylo picks the Evolution kith'uk special ability as his reward. ("Select one special ability from your species.")
With the Contest Story Path resolved Sylo must begin a new path. Jim chooses Rivalry for Sylo, telling the GM and adding that Sevbok might be the perfect rival for the kith'uk.
How Story Paths Work for the GM
Story Path events are meant to make preparing and running the game easier. The events give each player a chance to shine during a game, like a personal scene starring them in a book, film, or TV show. Work with your players to tie these Story Path events into the larger story of the campaign.
When planning your session, think about how you might introduce Story Path events. There are three categories of events:
Player active events rely on the player to take the initiative to accomplish the event. As the GM, you simply need to afford the player character some time to do this (perhaps while traveling through space). The "Blueprint" Create Masterpiece Story Path event is an example of this kind of event. The player character must create a plan to make a work of art. You can prompt the character to take on player active events with questions like, "You have some free time while traveling to Ardone. Do you want to make a plan for that musical you're writing? If so, what does your plan look like, and how do you create it?" Prompts are great, but don't force the player to complete the Story Path event in that moment. They may want to take some time to think about how they accomplish the event, so if they aren't ready to complete it, don't force them to do so.
GM active events rely on the GM to create the setting and NPCs involved in the Story Path event. You must prepare a scene in which the Story Path event takes place. You might need a map, NPCs, and more to complete the event. The "Fight for Your Life" On the Run Story Path event is an example of a GM active event because it involves GM-controlled enemies tracking down and battling the player character. The GM must be the one to decide when and how these enemies catch up to the player character.
GM prompted events rely on the GM to create opportunities and hooks the characters can use to accomplish their Story Path events. These events often benefit from quick conversations with your players about what their characters hope to get out of such events. The "Teach Me" Mentor Story Path event is an example of a GM prompted event. The GM must create one or more potential students for the player character, but ultimately the decision of who to choose as a student is up to the player character. As the GM you should create several detail-light options for completing the event. Instead of fully fleshing out one student NPC who is a sure thing for the character taking the Mentor Story Path, you might create three potential students, each with a single-sentence of description. You can always flesh out the chosen student(s) as you play. Of course, asking your player what number and sort of students they're interested in before the session can also help you prepare.
Tying Story Paths Together
When you prepare to tie Story Path events together, it helps to think of a mission that can encompass all of the characters' upcoming events. Different adventure genres: battles, disasters, heists, mysteries, survival scenarios, and more make great backdrops that allow Story Path events to occur. The events should fit into the overall structure of an adventure (or the story of an entire campaign).
When you're planning your session, ask yourself "Which category do the upcoming Story Path events fall into?" You should provide some downtime for player active events, have scenes ready for GM active events, and have a list of hooks ready for GM prompted events. The scenes and hooks you prepare should relate to your adventure's overall story as well as the events.
Here's an example of how you can tie the Story Path events of a team of player characters starting with the Battle, Create Masterpiece, Revenge, and Student Story Paths into the overall plot of the campaign. The mission is to investigate a distress signal from the Midbelt planet Schee, which is under attack by an evil cult called the Daylight. The GM prepares for the characters to fulfill their Story Path events in the following ways:
Jel'zak the ror-nan colony is taking the Battle Story Path, which has the 1st event, "Pick a Fight and Side." This is a GM prompted event, since the GM must provide the conflict, but Jel'zak must ultimately decide which fight and side is theirs. The GM prepares an obvious conflict between the Daylight and the Schee farmers, but then also prepares two back ups in case Jel'zak isn't interested in the first conflict. The second conflict involves a centuries-long violent feud between kith'uk and ulran farming families. The third involves two rival crews of pirates hiding in subterranean tunnels beneath the planets having a war of their own. If the Daylight conflict doesn't interest Jel'zak, the GM can introduce the other two conflicts. If the Daylight conflict does interest Jel'zak, the others may not be introduced to the story.
Culo Bregtyl the kith'uk needs to complete his 1st event for the Revenge Story Path, "Hurt." This is a GM active event because the GM needs to hurt Culo bad enough to prompt the kith'uk to take revenge. Since this is a dicey topic, the GM chats with Culo's player about the kind of hurt Culo should experience, and the player expresses an interest in a more intense tale of revenge. The GM decides that Culo's friend lives on Schee. The GM prepares a scene for Culo's arrival on Schee where the kith'uk finds his friend gravely injured in bed after battling the Daylight, giving Culo a reason to seek vengeance.
Layawah Marcella the glean needs to complete her 1st event for the Student Story Path, "Find a Tutor or Institution." This is a GM prompted event because the GM must create a few options for Layawah to choose as a tutor. During a quick conversation with Layawah's player the GM learns the glean wants to study medicine from a master healer. The GM creates four quick NPCs who fit that description and puts them on Schee as adventurers and locals helping those injured by the Daylight.
Vu the zivoy's 1st event for the Create Masterpiece Story Path is "Inspiration." This is a player active event, since Vu must decide what inspires them to create art. The GM does not even need to provide much free time for this event, since it's all about what inspires Vu. The GM simply makes a note to remember to ask, "Does this inspire your art? If so, how and what does it inspire?" whenever something dramatic or interesting happens to the zivoy.
Burn Bryte's advancement is based around the idea that each player character will get to achieve one Story Path event per 2 hours of gameplay. However, the size of every group, each GM's pacing, and the length of session varies for everyone. If you want to speed up or slow down this advancement, that is up to your gaming group and you.
If you deviate from the one Story Path event per 2 hours of gameplay guideline, it is recommended that you still advance all player characters at the same rate. If one achieves more Story Path events than the others, that character becomes significantly more powerful and could turn into the game's star. Burn Bryte is game for ensemble stories.
Sample Story Paths
The following are sample Story Paths from Burn Bryte.
Contest
You prepare for and engage in a contest with the intent of winning. The challenge could be anything from an official starship race to a friendly bet. This Story Path represents a period of time where you focus on the contest and is for people who want to roleplay characters determined to win.
1st Event: Challenge Accepted
Completion: You complete this event after you learn about the contest and agree to partake. You might see an advertisement for an official contest, get challenged by a friend, or create a contest of your own to prove something.
Reward: Increase the die size of one of your Social skills by 1.
2nd Event: Curveball
Completion: You learn a curveball about the contest that could give you some trouble. This complication could be a tough-to-beat contestant, an unexpected contest rule, a breakdown of a favored piece of equipment, or similar obstacle. You complete this event when you develop a strategy for dealing with this hiccup.
Reward: Increase the die size of one of your Mental skills by 1.
3rd Event: Train
Completion:Do you practice in every free moment? Do you have a daily goal? Are you planning on not planning and winging it? After you train you should be ready for the contest. You complete this event when you plan and execute your training regimen.
Reward:Increase the die size of any one of your skills related to the contest.
4th Event: Compete
Completion: Did you give it your all? Was your hard work worth it? You complete this event when the contest is over. Win or lose, you participated.
Reward if you win: Select one special ability from your species.
Reward if you lose: Gain the Determined to Win special ability. Once per day when you fail a skill roll, you can make the failure a success instead. If you complete this Story Path a second or greater time and lose the contest again, select one special ability from your species.
5th Event: My Reputation
Completion: Win or lose, you now have a reputation based on your performance in your contest. You complete this event when you deal with that reputation in some way. If you win, do you greet adoring fans with gusto, or do you try to remain anonymous? If you lose, how do you handle the jeers, heckles, Complenet comments, and any potential bad press you get.
Reward: Select one Nova ability from your species.
Create Masterpiece
You are determined to create an amazing piece of art. It could be a painting, a song, software, a weapon, or any work of art that can emotionally move others. This is more than just another drawing or poem; it is your passion and soul poured into a single work. This Story Path represents time spent building a life-defining artistic achievement. This path is for a person who wants to roleplay a character dedicated to making the galaxy a more interesting place through creation.
1st Event: Inspiration
Completion: An experience inspires you to create your work of art. You could be moved by witnessing a natural event, a touching story, another piece of art, or a personal connection you have. Your participation in a battle, negotiation, or exploration could also be your inspiration. You complete this event when you have a clear-cut idea of what you want to create (e.g. a song about the Burn, a painting of a star, or a weapon for a friend who needs it).
Reward: Increase the die size of one of your Social skills by 1.
2nd Event: Blueprint
Completion: You complete this event after you create a plan for your work of art. This could be a simple sketch of a painting, a blueprint for a mechanical marvel, a list of ingredients for a recipe, or some other preparation.
Reward: Increase the die size of one of your Mental skills by 1.
3rd Event: Missing Ingredient
Completion: You complete this event after you find a missing ingredient required to make your creation the best it can be. This could be a tangible ingredient that's not readily available, like a rare metal or paint, or some advice or final inspiration from a specific person, place, or thing.
Reward:Select one special ability from your species.
4th Event: Complete Masterpiece
Completion: Now that you have all the pieces you need for your masterpiece, you have to work on it. You complete this event after you place the finishing touches on your creation. You need to describe this work of art in detail to the GM, the senses evoked by the piece, and the hours you spend creating the masterpiece.
Reward: Increase the die size of your Computers, Empathy, Engineering, Knowledge, or Performance skill by 1.
5th Event: Present Masterpiece
Completion: Now that your masterpiece is complete, you must present it to a group of people. This could be a public showing of your art or a private display just for people you trust. Once the art is shown, someone could make an offer to buy it from you. You can take this offer, give the art away as a gift, or keep it for yourself.
Reward if you sell the art:Gain 20,000 argent.
Reward if you give away the art: Select one special ability from your species.
Reward if you keep the art: Gain the Work of Art special ability as long as you have your creation. The first time someone interacts with your art (usually by seeing, hearing, or tasting it), you reduce the complexity of Social skill rolls made to influence that person by 1 (to a minimum of 2) for the next 24 hours. If your art is destroyed or permanently lost, you can immediately select one special ability from your species.
If you like what you're reading please consider supporting me on Patreon, supporting me on Ko-fi, follow me on Twitter, like World Builder Blog on Facebook, check out my podcasts, find my products on the DMs Guild, tell your friends about the blog, and/or leave me a comment and let me know you think. Thanks!
+ More Blog Posts +
You can order The Demonplague, my level 1 – 20 fifth edition adventure, right now!
Inspired by Brandon Dixon's awesome post about the incredible Swordsfall mechanics, I thought I would spill some (virtual) ink in this post to divulge a bit about the Burn Bryte core mechanics.
People new to the blog might be asking, "What is Burn Bryte?" Oh just a new science fantasy RPG I created with Jim McClure, Kat Kuhl, and Darcy Ross for exclusive use on the Roll20 platform. I've written about the setting of Burn Bryte and the advancement system in previous blog posts. Now that we've had a chance to refine the core mechanic and combat of Burn Bryte through playtesting, I'd love to share a lot more of it with you. Burn Bryte isn't out yet, but it is coming soon!
Side note: If you want hear these mechanics in action, listen to Kat's Autonomic podcast. She's running a game using the same system as Burn Bryte.
Over-the-Top Science Fantasy
Burn Bryte is a science fantasy game inspired by some of the designers' favorite stories, like Star Wars, Guardians of the Galaxy, Jupiter Ascending, The Expanse, Voltron, Gundam, Outlaw Star, and Saga. These are stories about competent, heroic characters facing impossible odds. During dramatic, comedic, or action scenes in these stories, complications can pile up, the odds can seem overwhelming (ridiculous even), but the heroes always seem have the tools to handle anything life throws at them. We wanted to create a game that captured that idea.
Skill-Based
Burn Bryte is a skill-based RPG, similar to FATE in that skill rolls drive most of the game's action and story. Every character has the following 18 skills:
Computers
Engineering
Knowledge
Medicine
Perception
Streetwise
Athletics
Melee
Power
Ranged
Skullduggery
Stealth
Deception
Decorum
Empathy
Performance
Presence
Suavity
Each skill has a die size associated with it: d4, d6, d8, d10, or d12. The larger the die size, the better you are with the skill. Burn Bryte assumes characters are competent heroes, so rather than rolling to see if a character succeeds, the game asks you to roll to see if you fail. How does that work?
When you make a skill roll to perform a task, the skill roll has a complexity, which determines how difficult the task is to overcome. The higher a roll's complexity, the harder it is to perform. The GM determines a roll's complexity, which can be as low as 2 (easy) or as high as 7 (ridiculous). Outside of combat most skill rolls have a complexity of 2 (easy), 3 (moderate), or 4 (hard). The skill roll's complexity determines the number of dice you roll.
When you make a skill roll, you roll number of dice of the skill's die size equal to the roll's complexity. If you roll the same number twice or more, known as rolling doubles, the skill roll fails.
For example, Luwe the glean (an alien species in Burn Bryte) wants to attempt to leap across a chasm. She tells the GM she wants to use her d8 Athletics to leap across the pit, and the GM tells her that skill roll has a complexity of 3. Luwe rolls 3d8 and rolls a 5, a 3, and a 7, so she succeeds. If Luwe had rolled a 5, a 5, and a 7 or a 6, a 6, and a 6, she would fail the roll because she rolled multiples (or doubles) of the same number.
Justifying Skills
Unlike many other RPGs each skill in Burn Bryte is not designed to be used for specific purposes. Instead skills are used as ways to approach the challenges that face the player characters. They are intentionally broad so that players may choose from a variety of different skills to solve a problem the way they want to solve it. This freeform use of skills gives freedom to the players to tell complex and differing stories with each roll (and try some ideas that just might be crazy enough to work).
For example, a character could certainly use the Melee skill to attack someone with a laser sword. They could also use the Melee skill to intimidate someone during a negotiation by flaunting their weapon or to impress someone with fantastic feats of finesse.
Here's another example. Imagine a group of characters trying to cross a chasm in a cave. One character might use the Athletics skill to jump across the pit, another could use Engineering to figure out the precise place to kick off the cave wall to make it across, another could use Computers to jury-rig a broken flying robot to ride it across, and a fourth character might use the Melee skill to ride the shockwaves of their sonic caber (oh yeah) across the chasm. All are valid and have the same complexity.
GMs almost never tells a player, "You must make a Stealth roll to avoid being seen." Instead the GM should say, "Guards are coming, what skill do you use to handle this situation?" and players can choose any skill they can justify.
Why Not Use the Best Skills?
Since you can justify almost any skill, you might be asking yourself, "Why not always use the skills which give me the highest chance of success?" You could always use your best skills, but that is actually not the optimal way to play Burn Bryte. If you only ever use your best skills, you will never earn Nova points.
Nova points allow a character to take very powerful actions that are far stronger than what can be done with a standard skill roll. Nova point abilities are the best abilities a character can get, and having Nova points is often the difference between success and failure in tough conflicts.
Characters only get a Nova point after they have used one skill of each die size (d4, d6, d8, d10, and d12). The only way to get Nova points is to use a combination of strong, intermediate, and weak skills.
Failure Means Consequences
Whenever a player character fails a skill roll in Burn Bryte, there are consequences beyond simply not succeeding at the task the character tried to accomplish. When your character fails, they might take damage, suffer a harmful condition, break an object, or suffer a setback in the story. For instance, failing to pick a door's lock sets off an alarm that sends enemies running toward them, or a poor performance for an audience means the governor in the crowd refuses to meet the character backstage after the show. Whatever happens, failure on a skill roll should always have a cost.
The player and the GM work together to create the consequence for failure. If they need a prompt, we've created a table of 100 failure consequences to help inspire ideas (check it out below). The prompts are purposefully open to interpretation. For instance, the prompt "something breaks" could indicate an item of value the player character has breaks, that the spaceship they're on suffers an engine malfunction, or an NPC the characters are negotiating with reaches their breaking point and storms off.
Modifying Skill Rolls
In Burn Bryte skill rolls can have their complexities modified by character special abilities, Nova abilities, positive and negative conditions, and equipment. More on those in future blog posts!
Combat
Burn Bryte's combat system is divided into three phases:
Phase 1: Enemies Declare Actions
Phase 2: Player Characters Act
Phase 3: Enemies Move and Resolve Actions
Phase 1: Enemies Declare Actions
The GM almost never rolls dice in Burn Bryte. During Phase 1 the GM declares which player characters enemies intend to attack and other actions they wish to take. Roll20's token markers make it easy to remember which monsters are attacking which characters. Before these enemy actions resolve the characters get to act.
Phase 2: Player Characters Act
During Phase 2 the player characters can act in any order they choose. On each player character's turn, the character can take any number of actions they choose until they decide to stop or fail a skill roll. Almost every action a player character takes during combat requires a skill roll. The first skill roll they make on their turn has a complexity of 2. The next has a complexity of 3 and so on. Player characters can use skills to attack, counter or dodge incoming enemy attacks, gain Advantages (more on those in another post), gain extra movement, use special abilities, and more. As long as the character succeeds on a skill roll, they can keep taking actions, but if they push their luck too much, they fail and end their turn after suffering the consequences of failure as described above.
The Adrenaline Effect
During combat the complexity of skill rolls fluctuate and are dependent on the number of actions a player character has already taken. Outside of combat the complexity of skill rolls are static. You may wonder, "Why does a chasm that requires a complexity 3 skill roll to cross outside of battle become a complexity 2 skill roll during combat if crossing it is my first action and a complexity 4 skill roll if crossing it is my third?" The answer is the adrenaline effect.
During life-threatening combat (not a situation engineered by the player characters for easier skill rolls) player characters start their turn with a boost of energy that helps them focus, making the first task they perform easy. This energy boost also allows them to take multiple actions, but the more a player character takes on in a turn, the more difficult it is for them to perform tasks.
Phase 3: Enemies Move and Resolve Actions
During Phase 3 enemies move and their declared actions from Phase 1 resolve. Any enemy attacks that weren't countered by the player characters in some way (usually with a skill roll or by knocking out/killing/scaring off/etc. the enemy making the attack) deal damage and/or effects.
One More Preview
So those are the basics of the Burn Bryte core mechanic and combat, but I wanted to share one more thing with you that might be useful in RPGs beyond our science fantasy baby. Remember that GM failure table I mentioned earlier? Here it is for your enjoyment.
Failure Prompts
| | |
| --- | --- |
| d100 | Failure Prompt |
| 1 | Something breaks. |
| 2 | Something is destroyed. |
| 3 | You get hurt. |
| 4 | You hurt an ally. |
| 5 | Enemies arrive. |
| 6 | An enemy is back in the fight. |
| 7 | You stumble. |
| 8 | You lose something. |
| 9 | An enemy gains an advantage. |
| 10 | You get stuck. |
| 11 | You offend someone. |
| 12 | A damning secret is revealed. |
| 13 | You cause a scene. |
| 14 | You cause an accident. |
| 15 | Something explodes. |
| 16 | Something wears out. |
| 17 | A fire starts. |
| 18 | Something shakes. |
| 19 | Something stops. |
| 20 | Your luck runs out. |
| 21 | You can't try that again. |
| 22 | You make a mess. |
| 23 | You attract the wrong kind of attention. |
| 24 | You let a friend down. |
| 25 | You make an enemy stronger. |
| 26 | Something scares you. |
| 27 | You miss the mark. |
| 28 | You get tired. |
| 29 | You become impaired. |
| 30 | Something pulls you away from the action. |
| 31 | You get separated from allies. |
| 32 | You are suddenly alone. |
| 33 | Something works differently than you expected. |
| 34 | You can't sense what's in front of you. |
| 35 | The plan falls apart. |
| 36 | Something goes haywire. |
| 37 | A problem solved becomes undone. |
| 38 | An old wound reopens. |
| 39 | A good thing turns bad. |
| 40 | A bad thing gets even worse. |
| 41 | You lose your stuff. |
| 42 | You lose focus. |
| 43 | Something gets dropped. |
| 44 | You suffer a massive distraction. |
| 45 | You get screwed. |
| 46 | Something pops loose. |
| 47 | You lose traction. |
| 48 | Your mind goes blank. |
| 49 | Karma comes to get you. |
| 50 | Karma comes to get an ally. |
| 51 | You look like a total loser. |
| 52 | You lose steam. |
| 53 | Something bad infects you. |
| 54 | Something bad infects an ally. |
| 55 | Your stuff gets stuck. |
| 56 | You accomplish your goal too hard. |
| 57 | You lose all hope. |
| 58 | You expose yourself. |
| 59 | You expose your allies. |
| 60 | You must choose between hurting yourself or an ally. |
| 61 | You freeze and cannot act for the next round. |
| 62 | You temporarily cannot communicate with anyone. |
| 63 | Your failure makes you weak. |
| 64 | Your allies lose faith in you. |
| 65 | Your enemies charge you in your moment of failure. |
| 66 | Nothing makes sense to you anymore. |
| 67 | You crack up. |
| 68 | Something you thought was true is a lie. |
| 69 | You are proven right about something you want to be wrong about. |
| 70 | Your defenses drop. |
| 71 | You knock over an ally. |
| 72 | You break an ally's stuff. |
| 73 | An ally becomes an enemy (even if just for a moment). |
| 74 | You cause an ally to get stuck. |
| 75 | You and an ally crash into each other. |
| 76 | You relive a painful memory. |
| 77 | This failure is personal. |
| 78 | Your priorities change. |
| 79 | There's a new problem you must solve. |
| 80 | You open a can of worms. |
| 81 | Something tears. |
| 82 | Your confidence disappears. |
| 83 | Something jams. |
| 84 | Something beautiful turns ugly. |
| 85 | You get burned. |
| 86 | You burn an ally. |
| 87 | Your latest success is undone. |
| 88 | The latest success of an ally is undone. |
| 89 | You succeed at the cost of an arm and a leg. |
| 90 | You go over the edge. |
| 91 | You believe a lie. |
| 92 | The joke is on you. |
| 93 | You must choose between saving two allies. |
| 94 | You must choose between hurting two allies. |
| 95 | You can't stay here. |
| 96 | Your nightmare becomes reality. |
| 97 | Something breaks beyond repair. |
| 98 | This failure leaves a scar. |
| 99 | The thing you fear most happens or appears. |
| 100 | The worst happens. |
If you like what you're reading please consider supporting me on Patreon, supporting me on Ko-fi, follow me on Twitter, like World Builder Blog on Facebook, check out my podcasts, find my products on the DMs Guild, tell your friends about the blog, and/or leave me a comment and let me know you think. Thanks!