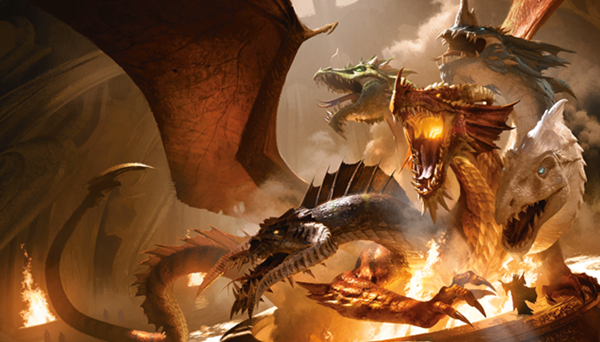 What would happen if heroes failed and the title villain comes to power in Rise of Tiamat? Fifth edition Dungeons & Dragon's first storyline, Tyranny of Dragons, is truly epic. It sees the characters clash with multiple chromatic dragons of great power to prevent the rise of their goddess, Tiamat, from the Nine Hells. As with many D&D campaigns, I imagine most of the groups that played through this adventure are victorious… but what about those who were not? What happens in that version of Faerûn?
The end of the adventure offers three inspiring paragraphs about what becomes of the world and how to continue the story if the characters fail to stop the Cult of the Dragon from summoning Tiamat. These three paragraphs got my brain going and inspired me to continue the tale, setting the stage for a campaign set in a Faerûn were dragons reign!
Tiamat Rules
In this new world where Tiamat rules, chromatic dragons hold all the power. A decade after their dragon goddess' rise, dragons have laid waste to almost the entirety of the surface world and parts of the Underdark with no special treatment for the mortals in the Cult of the Dragon. The cult burned with the rest of the world. The dragons let Faerun run wild and different chromatic dragons rule the regions where they are most comfortable. Mountains, ice, marsh, lava, and more have taken the place of mortal settlements. Here, dragons spend their days hunting, feasting, searching through ruins for treasure, and battling against each other for dominance. It all pleases their goddess, who revels in the chaos the world has created.
Despite the violence of dragons, all still bow to Tiamat. It was under her leardership that most of the world's metallic dragons and giants were killed or driven into the Underdark. Tiamat keeps her consorts and most loyal subjects close and can assemble an army of dragons at nearly a moment's notice. Her ultimate goal is to snuff out the few remaining bastions of mortals who stand against her. Tiamat knows these humanoids nearly stopped her rise to power and must snuff out all who defy her.
Desperate Bastions of Mortals
All Faerûn is not lost. While most mortals died in the acids, fires, poisons, snows, and storms of dragons, there are those who survived. Waterdeep stands thanks to Ahghairon's dragonward, a powerful enchantment that keeps dragons out of the city. Here the Council of Waterdeep still meets to discuss rationing supplies and what to do with all the city's refugees. Every day in the overcrowded city people starve, disease spreads, and the people threaten to tear themselves apart. The council can barely hold Waterdeep's walls together, let alone come up with a plan to send Tiamat back to the Nine Hells.
The situation in the Underdark is not much better. Evil humanoids, like drow and duergar, illithids, and criminals like the Xanathar Guild that call the place home were unwelcoming to those brave few who made it into the dark tunnels, slaughtering or enslaving those who entered. Even communities of svirfneblin and myconids sealed their entrances, fearful that dragons were not far behind the surface refugees. Despite all this, there are places within the Underdark where surviving surface humanoids gather and try to take shelter, constantly wary of hunting dragons and other dangers within their new, terrifying home. Many of the communities that survived the last ten years have a metallic dragon or giant leading them, but even these places experience loss more often than not.
A Spark of Hope
The odds against mortals are overwhelming. How could they hope to survive in a world ruled by dragons, let alone fight back? On the tenth anniversary of Tiamat's rise, hope comes in a strange package. A devil from the Nine Hells appears in Waterdeep, demanding to see the council. The fiend claims to be a messenger of Bel, former lord of Avernus, first layer of the Hells. Bel wants to see Tiamat returned to Avernus and knows of a way to do so… but can the characters trust the disgraced devil prince? His words are the only hopeful ones to be spoken in years…
You Can Play in this World!
I was asked to create an adventure for me to run at small convention… in France… in a castle… with other awesome dungeon masters like Jeremy Crawford, Satine Phoenix, Ruty Rutenberg, Orion Acaba, and Tim Mottishaw! If you're interested in playing a game in this dragon-dominated Faerûn (or in a different adventure created by one of these amazing DMs), then check out the event! I will be running a game in this world there.
If you like what you're reading please follow me on Twitter, like World Builder Blog on Facebook, check out my podcasts, find my products on the DMs Guild, tell your friends about the blog, and/or leave me a comment and let me know you think. Thanks!
It happened. You reached the end of another Dungeons & Dragons published adventure. At this point the player characters might be 5th, 10th, or 15th level (or somewhere around there). They love their characters and want to keep playing. There's other published adventures to play, but you're enjoying this story and don't want it to end. Can you keep it going?
Of course you can! It's D&D! You can do what you want. I've got some suggestions below for how to continue the stories of your favorite published D&D adventures after the big bad bites the dust.
Be warned! There are spoilers ahead for the published D&D adventures.
Lost Mines of Phandelver
Lost Mines of Phandelver can lead into any of the hardcover adventures (and even has built-in hooks for Hoard of the Dragon Queen and Storm King's Thunder), but if you prefer to continue that specific story…
The Black Spider Was Just the Beginning. The Black Spider is a member of a much larger cabal of evil drow that search for magic forges and magic items. They plan on amassing all they can before arming a battalion of drow, blacking out the sun, and conquering Faerûn's surface world. The characters must take out the drow operations on the surface and then journey into the Underdark to stop them.
The Terror of Venomfang. The green dragon Venomfang has a strong chance of living through the adventure, given the low level of the characters and the high challenge rating of the dragon. The Black Spider's death creates a power vacuum that Venomfang fills. The dragon uses the remaining minions to sack and conquer Phandalin before using that army and wealth to plunder progressively larger settlements. It's up to the characters to hunt down and stop Venomfang (and when they kill the dragon, mommy Venomfang comes looking for vengeance).
Tyranny of Dragons
Rise of Tiamat likely ends with Tiamat being pushed back into the Nine Hells and the Cult of the Dragon suffering a massive defeat. With such a grand finale, how could one look to further this story?
Into the Hells. Tiamat might be back in the Nine Hells, but she isn't dead. If the characters want to put down the evil dragon goddess for good, they need to collect a set of epic weapons forged from the bones of ancient metallic dragons scattered across Faerûn, find a way to get into the Nine Hells, get to Tiamat's fortress, fight their way to her through devils and dragons, and then kill her with the weapons.
Cult Wars. The defeat at the Well of Dragons leaves a power vacuum in the Cult of Dragon. The remaining cultists battle for dominance in the organization, and they don't care how many innocents die. One faction of the cult courts chromatic dragons, stealing treasure and capturing humanoids to offer to the dragons and win them over. The other believes in the old ways of the cult and creates dracoliches. This latter group seeks to capture Faerûn's mages to create the undead dragons. Both factions clash in spectacular and destructive ways in populated cities as they perform their evil deeds. The characters must find and put down the leaders of both factions, who are hidden in separate, secret fortresses.
Princes of the Apocalypse
Princes of the Apocalypse likely ends with the characters defeating a Prince of Elemental Evil and scattering each elemental cult to the wind. Yet the story could continue…
Revenge of the Princes. The remaining Princes of Elemental Evil are furious with the characters for foiling their plans. In an act of defiance powerful, vengeful cultists that lived through the ordeal corner the characters and perform a ritual that transports the entire party into one of the elemental planes. The characters must survive and find a way back to the Material Plane. This adventure could take them to more elemental planes and see them facing off with all of the Princes of Elemental Evil (including the one they previously vanquished).
Restore the Balance. The Princes of Elemental Evil are defeated, but the lingering effects of the magic of their cults remains. Severe weather events and natural disasters become sudden and common in Farûn and lay waste to cities and villages. The characters must permanently sever the connection of the Material Plane to the Princes of Elemental Evil, but to do so they must find the sacred components for and perform a ritual that summons the remaining three princes into Faerûn at the same time and defeat them.
Out of the Abyss
Out of the Abyss likely ends with the characters defeating many of the demon lords and sending them back home, but that doesn't need to be the end of the story….
Orcus Among Us. I was always sad we didn't get to see the whole story of my favorite demon lord in Out of the Abyss but now you can. When Orcus was crushed by Demogorgon, he didn't return to the Nine Hells. The undead mind flayer collective he rules in the Underdark latched onto their master before the Abyss could take him and transported him to the colony. From this bastion, Orcus sends his alhoons into other mind flayer colonies to kill elder brains and recruit new servants. As his undead ranks swell, a terrified and shrinking living illithid populace seeks out the characters' help. They've vanquished demon lords before. Can they do so again?
Frenemy Demon Lord. The demon lords returned to the Abyss to find that in their absence Lolth consolidated power. The Queen of Spiders is the one who sent the demons away in the first place and it was her plan all along to make a power grab in the infinite layers. Graz'zt uses his power to bring the adventurers who defeated him into the Abyss. He promises that the demon lords shall not attempt to return to Faerûn or incite violence there for 10,000 years if the adventurers can imprison Lolth to another plane of existence. Whether they take the deal or not, the adventurers find themselves trapped in the Abyss with demon lords who hate them and must get out.
Curse of Strahd
Curse of Strahd likely ends with the characters killing Strahd and returning home. There's not much left in this story… or is there?
Put Down Strahd… Forever. Curse of Strahd states that Strahd von Zarovich will eventually return to Barovia… but what if they could stop that? The only way to keep Strahd from returning to Barovia is to find weapons that will kill and the names of the Dark Powers. After that, it's just a simple matter of hopping through the multiverse and hunting down each one.
Oops! When the characters defeated Strahd it seemed everything was finally at peace in Barovia. The monsters were gone. That's only because the monsters knew the mists of the land would recede once Strahd died. They took that moment to escape back into the home plane of the adventurers! The characters find their old homes overrun with undead, hags, werewolves, and more. To save their world, the characters must find a way to treat with the Dark Powers and offer up a powerful evil to take Strahd's place in Barovia.
Storm King's Thunder
Storm King's Thunder likely ends with Iymrith defeated, but there's plenty of giant lords still at-large…
Giant Lord Round-Up. There's five giant lords (or maybe six) in Storm King's Thunder. Odds are your group only put down one. King Hekaton asks the characters to go after the rest as he tries to restore the Ordning.
The Jotun Awakens. The smashing of the Ordning awoke an ancient force deep in the earth. A Jotun giant (see Tome of Beasts) comes to Faerûn and declares war on King Hekaton, killing every giant and humanoid that does not bow before it. It's up the adventurers to fight this Jotun's servants and uncover a way to kill the nigh unstoppable foe.
Tomb of Annihilation
Tomb of Annihilation likely ends with Acererak defeated, but not dead, which actually leaves things open for the perfect continuation…
Kill Acererak. The adventurers may come up with this one on their own. Easier said than done to kill the old lich, since his phylactery is hidden somewhere in the multiverse. They must delve into his other tombs (like that one of horrors) to find more information about the old lich, where he makes his lair, and where he hides his phylactery (or phylacteries if you like). If you do this, be sure to pull out every nasty trap you ever dreamed of.
About That Dragon Turtle. Tomb of Annihilation has multiple horrors in Chult that stay in the area long after the atorpal has been destroyed. Adventurers could stick around and battle the dragon turtle in the sea, helping cull the undead threat, explore ruins for treasure, and help restore those taken by the death curse by acquiring plenty of diamonds.
Which Is Your Favorite?
Here's a quick poll to let me know which adventure you'd like to play or run most!
Have you continued one of the published adventures beyond its pages? If so, let me know how in the comments below.
If you like what you're reading please follow me on Twitter, like World Builder Blog on Facebook, check out my podcasts, find my products on the DMs Guild, tell your friends about the blog, and/or leave me a comment and let me know you think. Thanks!
+ More Blog Posts +
Photo provided by Wikimedia Commons
As another year comes to a close, so too does another chapter of World Builder Blog. As far as years go, this was a big one for me personally. The site got a makeover thanks to Ryan Hennessy, Rudy Basso and I launched a new podcast network, I joined the ranks of the DMs Guild Adepts, I contributed to the Kobold Press Creature Codex, I wrote a best-selling adventure for the D&D Adventurers League, and I contributed to several other projects! I also have several major announcements coming in 2018 that I cannot WAIT to share (but I am still under NDA for most).
What I can tell you about 2018 is….
I've been invited to DM some D&D games in a castle in France with Regency Encounters! You can checkout this amazing experience at dndinacastle.com and join DMs Jeremy Crawford, Orion Acaba, Satine Phoenix, Ruty Rutenberg, Tim Mottishaw, and myself on this incredible journey.
In mid-January a level 1-20 fifth edition D&D adventure path Johnn Four I wrote in 2016 will be available through Kickstarter.
Keep your eyes here on World Builder Blog for more exciting announcements. These first two are just the tip of the iceberg. There's lots of awesome podcasts and games I've contributed to that I can't wait to talk about.
As we enter a new year, many of us make a resolution to better ourselves in some way. I was inspired by Mike Shea of Sly Flourish's latest article, where he writes a letter to new DMs, to write a list of gaming resolutions for DMs new and old to get a fresh start in the new year. Pick one or pick all to make your 2018 awesome!
Bring New People into Gaming. Maybe you have friends who have always been interested in the game, but you never found a good time to teach them. Maybe someone special knows how important this hobby is to you and is willing to give a one shot a try. Maybe you know some young folk who are finally ready for their first game. Whatever the case, make some time to give someone an introduction to this amazing world and help the hobby grow.
Support Creators You Love. It goes without saying that you shouldn't pirate the work of creators, but it also helps to support those you love by buying their products and supporting their Patreons if you can. If you can't, that's ok! There's so many other ways to support. Share your love of the creator on social media or even better share it with someone you know personally. Help grow that creator's audience or give some words of encouragement! It means more than you know.
Play in a New Place with New People. Enrich your own gaming life by playing in new places with new people. Head to a convention, a game store, or find a group from a forum (like Roll20's Find A Game feature). You'll learn new ways of playing the game and make new friends. What could be better than that?
Change Up Your Routine. Change up your normal gaming routine. Do you always GM? Let someone else take a stab and you step into the player role for a session or more to get a fresh perspective and avoid burn out. Have you never run a game? 2018 is your year! Run a one shot for some friends you trust to experience the thrill, challenge, and megafun of being a GM! Do you and your friends always play the same RPG? Try something new, even if it's just for a session. All of these situations teach you new skills and deepen your usual experience with the game.
Make Something New. Make something new for your game, even if it's small! Could be a new creature, item, house rule, or adventure! Make art, podcasts, or stream a game on Twitch. You don't need to have a blog or publish your stuff on a website like the DMs Guild (though you could), but share your creation with someone and watch it in action at your game table.
Play More. It can be hard to play RPGs, especially if you're an adult with a job, family, and other commitments. Make time to play more games with the people you love in 2018. Don't let it be the final thing, because gaming is spending time with people you love. Do it more. Your life will be better for it.
If you like what you're reading please follow me on Twitter, like World Builder Blog on Facebook, check out my podcasts, find my products on the DMs Guild, tell your friends about the blog, and/or leave me a comment and let me know you think. Thanks!
Want to hear me wax poetic about game design, the Dungeons & Dragons product rollout strategy, Roll20, the Dungeon Master's Guild, and the greater Philadelphia area? Of course you do!
Dave from Nerdarchy was kind enough to invite me on his amazing show to talk about all that and more. Our hour-long discussion is below. Thank you so much to Dave and the whole Nerdarchy movement for having me on! It was such a fun conversation.
Gift Ideas!
Do you need some last-minute gift ideas for that special player or GM in your life. Check out my suggestions below (and here's two previous posts on the subject)! It's always fun to appreciate your friends, especially at this time of year.
Offer to host a game night at your place and cook or buy everyone dinner!
Give the gift of a gift certificate to a Local Friendly Gaming store! Even if you play remotely, find out where your friends shop, give the shop a call and order the gift over the phone. Ask the owner to give it to your friend the next time they appear in the shop.
Give the gift of a OneBookShelf gift certificate (good at DriveThruRPG and DMs Guild among other places)!
If you play online, give the gift of Roll20! You can give folks subscription plans, content packs, and game systems through the marketplace! I'm a Roll20 guy, but you can find similar gifts for Fantasy Grounds, d20PRO, and D&D Beyond.
If you're short on cash, not a problem. There's lots you can do. Run a special game over the holidays for your friends, give them IN game gifts (magic items FTW), or help out your GM by offering to run a game or give them one of many free adventures on this site or from the DMs Guild. There's lots you can do to show you care.
If you like what you're reading please follow me on Twitter, like World Builder Blog on Facebook, check out my podcasts, find my products on the DMs Guild, tell your friends about the blog, and/or leave me a comment and let me know you think. Thanks!
+ More Blog Posts +
Due to a recent (and now taken down) job posting for a Dungeons & Dragons designer job that required an applicant have three published products, I've had many folks ask me for advice about publishing content on the DMs Guild. Publishing a product is super rewarding, but it takes a lot of time and it can be difficult to know how to start. I have several products on the guild and my beginner products look like beginner products because I had no idea what I was doing when I started out. The blunders I've made have given me a tiny bit of wisdom that a few folks have asked for, so I thought I'd share that wisdom here.
To get started publishing a product on the DMs Guild, remember IRO WES PALPPP. (I'm still working on that acronym.)
Idea
You need to have something to write about on the DMs Guild. First and foremost, you should create a product that YOU want to see in the world and would use yourself. Don't worry too much about creating something other people will love. If you don't love it, you won't enjoy creating the product and it's going to show in your work, because it will become more important for you to get the product done rather than getting it done right. If you love it and put in the work to make it great, other people will love it too.
If you're unsure about where to start, start small. Don't jump right into that epic 200-page adventure or new campaign world that's brewing in your brain. If you've never designed anything for fifth edition D&D, a few backgrounds, a collection of magic items, or a two-hour adventure are great products for getting your feet wet with the DMs Guild.
Research
Before putting pen to page, do a little research. First get familiar with the official D&D hardcover products published by Wizards of the Coast. The background you want to create may already exist in the Sword Coast Adventurer's Guide or the magic item you're building may already exist in the Dungeon Master's Guide. You don't want to recreate something Wizards of the Coast has already done, since it likely won't get a lot of attention on the guild. Only create something that's already been made by Wizards of the Coast if you feel you cannot help but create the product.
Then you should search the DMs Guild to see if anyone has created the product you want to make. Even if someone has created what you're planning on making, that shouldn't be a deal breaker. How well did their product sell and how are its ratings? If it's a very popular product, like Matt Mercer's gunslinger subclass, you may want to consider creating something else, given that the market is already cornered, but again if you MUST create something popular that's been done before and have no other ideas, then do it.
You should also read Wizards of the Coast products and top-selling DMs Guild products to learn the fifth edition D&D grammatical style. Read these products for wording and have the official books nearby for reference when you write so you properly word your mechanical bits of writing. For instance, did you know that in fifth edition D&D what many people colloquially call skill checks, are technically called ability checks? Did you know that the word successful should appear before a given DC when describing an ability check? (e.g. A successful DC 15 Intelligence (Arcana) check deciphers the symbols on the ground.)
Even if you knew those things, read up and keep a book handy. The closer your writing is to the D&D style, the better. Consumers often prefer their writing to be in the style of the game, and as a bonus this is one of the things Wizards of the Coast will look for as they examine your product.
Outline
Once you've done your research, outline your idea. Outlines help you visualizes the product before it comes into being and prevent writer's block because you have a road map of where you're going.
Write
It's writing time! Make a commitment to get a certain amount of writing done each week and hold yourself to that like it's a paying job (because it is). Even if it's just 500 words a week, find the time to make it happen and you'll have a rough draft of a 2,000-word adventure by the end of the month!
Remember to keep a few official D&D products within reach so you can reference your style! That's also important for the next step.
Edit
I've quoted James Haeck, editor and game designer, here before and I shall again, "Once you've got all the words on the page, you've only got the sand. Editing is shaping that sand into a castle." Editing is so very important to your process. Sure, you're finding typos, but take the time to refine your product as well. Cut unnecessary words, rearrange sections that don't make sense, and change your story and mechanics where you feel it is necessary.
Set yourself a word goal for editing, just like you should with writing to make sure it only takes another month to edit that 2,000-word adventure.
Share
Once you're happy with the product, share it with someone you trust to give you good, honest feedback. Even if you're sure it's perfect, another set of eyes can catch things that are missing or assumptions you've made that leave the reader saying, "What?" You may not need someone to check every single draft, but for your first project and first draft, ask a friend to check it out.
Playtest
As designer Dan Dillon says, "Playtesting is worth its weight in gold." He's right. When you actually play with your new rules or story, you see them in action and find out where your mechanical mistakes are. "Oops! This encounter is clearly too hard," and "Oh! This new spell combined with this magic item makes you invincible," are errors that can sometimes only be learned through playtesting.
If you can have someone else run your product and give you a detailed playtest report, that's even better. It has all the benefits of playtesting something yourself along with a person who doesn't have any of your assumptions using the product.
Art
Finding art (including maps and a cover) is a whole blog post unto itself. Here it is.
Layout
For many of us, art and layout are the most daunting part of the process. Do we need to learn new software like Adobe InDesign? How do we know what looks good? Luckily for us, the DMs Guild provides a free template for creators with fonts and all. All you need is Microsoft Word and you're good to go. The template uses Word's styles, so if you're unfamiliar with them, read this guide. Don't worry! They're very intuitive. Keep those Wizards of the Coast D&D books close as you do layout and see if you can match a similar style.
Price
It's time to decide on a price for your product. All your time and energy is worth something! I recommend not selling your products for free or pay what you want (even though I have done that for many of mine). Wizards of the Coast takes products with an actual price attached more seriously. If you need help pricing look at the prices of products similar to yours that have sold well and consult this handy blog post from the good people at OneBookShelf, the company that runs the DMs Guild.
Post
Once you have your product complete and your price point, it's time to post it on the DMs Guild. The process for doing this is fairly easy, but you'll want to have the following items ready to roll:
A PDF of your product and any other files you want to include, like individual maps for virtual table tops if you're publishing an adventure
A JPEG of your cover
A good description of your product and what's included within (for instance, if you've made a collection of backgrounds, it's a good idea to share the name of each background in this description)
A list of designers, artists, and anyone else you want to credit
An idea of which DMs Guild categories this product belongs in (you can choose up to 10)
Which pages of your product you want consumers to be able to preview
Promote
Once your product goes live, don't let it just sit there. Promote it! Shout it out on social media using #DnD and find Facebook groups, Google+ communities, subreddits, and forums that allow you to promote you work (and be sure to post with the proper headings and tags). Ask your friends to do the same! Send complimentary copies through the DMs Guild to people and ask them to promote it. The more you shout about your product, the more folks will hear about it.
If you like what you're reading please follow me on Twitter, like World Builder Blog on Facebook, check out my podcasts, find my products on the DMs Guild, tell your friends about the blog, and/or leave me a comment and let me know you think. Thanks!