You can order The Demonplague, my level 1 – 20 fifth edition adventure, right now!
Hey! It's been a crazy week, but I have two new products to share. Behold! Two Adventurers League adventures for your Eberron and Baldur's Gate: Descent into Avernus games. While both adventures can be played as part of ongoing Adventurers League storylines, you can play each as a stand alone with minimal adjustment.
Where the Dead Wait
First up is EB-03 Where the Dead Wait. This Eberron adventure was written by me though Will Doyle, Shawn Merwin, and Ashley Micaela "Navigator" Lawson deserve a lot of the editing and story credit as well. Stacey Allan did the incredible layout and art direction. This adventure is heavily inspired by the film Evil Dead II. It's part of the amazing and well-reviewed Oracle of War campaign the aforementioned crew is putting together. This storyline is a great entry point into Eberron (and also fun for Eberron grognards). Check it out! Here's the description:
On their way back to Salvation, the adventurers are ambushed by a large force of undead and forced to seek shelter in a ruined cottage. As the dead close in from all sides, the survivors turn to the Oracle of War for a lifeline. Only this time, things don't play out as expected…. This Tier 1 adventure is optimized for APL 3, and is the third adventure in the four-part Spoils of War storyline.

Welcome to the Oracle of War campaign, a new 20-part standalone story for the D&D Adventurers League! You can play this adventure as part of your own Eberron: Rising from the Last War campaign, or as part of the Oracle of War organized play campaign. While this campaign runs under the umbrella of the Adventurers League, it utilizes different rules. You can familiarize yourself with these unique campaign rules by checking out the Oracle of War Player's Guide and Oracle of War DM's Guide, found in the D&D Adventurers League Players Pack.

Find other adventures in the Oracle of War campaign here:
EB-01 The Night Land
EB-02 Voice in the Machine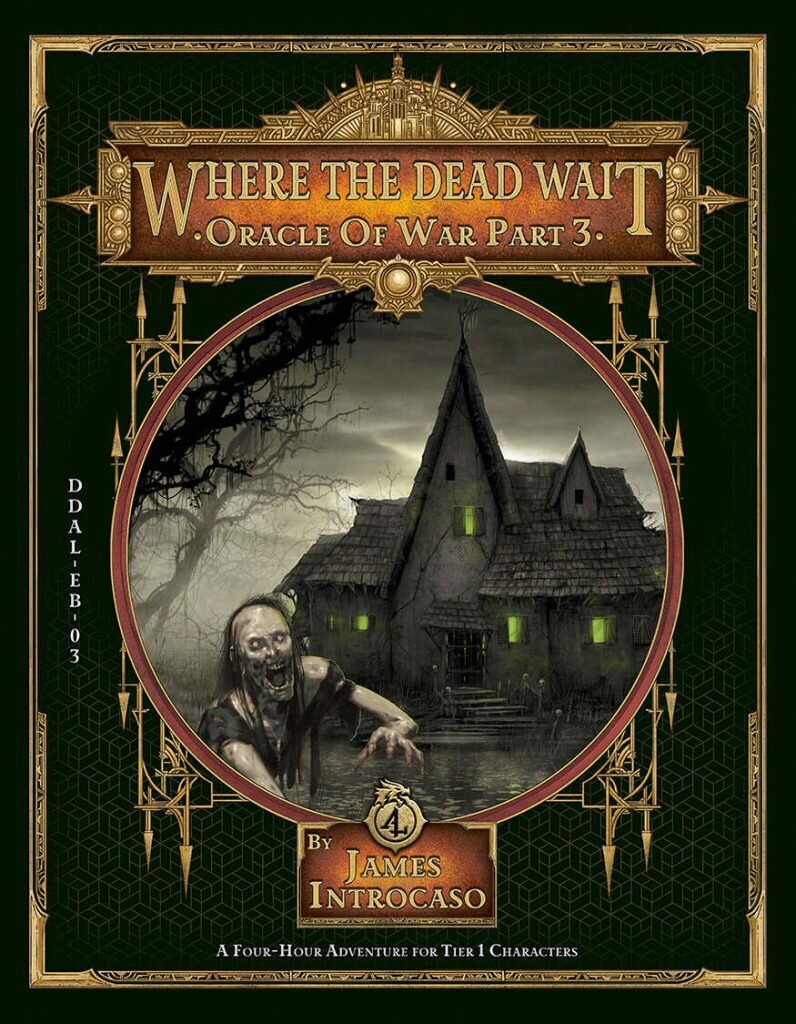 Losing Fai
Next up is DDAL09-11 Losing Fai. Written by me, edited by Travis Woodall, Greg Marks, and Hannah Rose, and laid out and art directed by Rich Lescouflair, this adventure takes place in Avernus! This story is all about the mysterious merchant called Fai Chen, who has showed up in previous Adventurers League stories, but if you don't know anything about him, a quick handout can help you catch up. Here's the description:
Fai Chen has gone missing from Mahadi's Traveling Emporium, and the merchant sends you a note asking you to rescue him. You'll have to do it without angering the master of the emporium, whose protection is crucial to your sacred mission. But in the Nine Hells, how much can you really trust someone you call friend?

A Four/Six-Hour Adventure for Tier 2 Characters. Optimized for APL 8.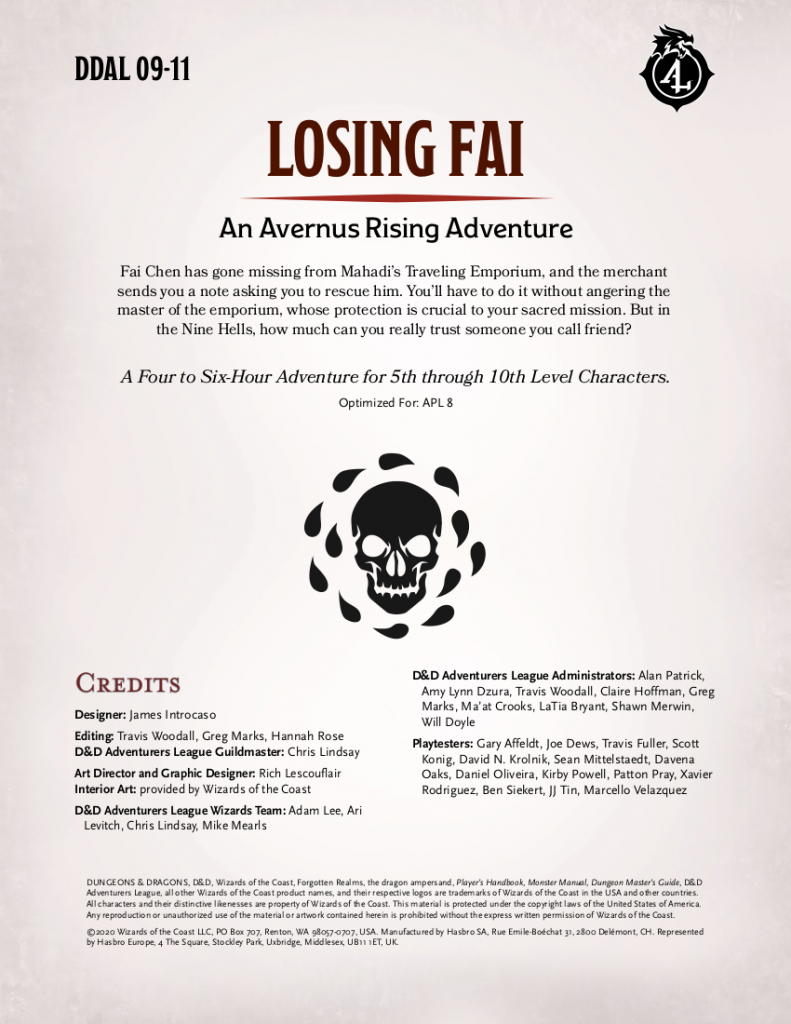 If you like what you're reading please consider supporting me on Patreon, supporting me on Ko-fi, follow me on Twitter, like World Builder Blog on Facebook, check out my podcasts, find my products on the DMs Guild, tell your friends about the blog, and/or leave me a comment and let me know you think. Thanks!